They are sled dogs, after all, our Alaskan Malamutes (and Siberian Huskies,) and their heritage, and greatest joy, is running. But in our modern and crowded time, running free is a death sentence. Our lively, intelligent, social sled dogs have no more road sense than a squirrel, AND they have a fascination with all other animals, living and dead. They love to play and don't understand why horses give out and goats a re cranky and cats — well, cats are the most fun of all if you are doing the chasing…
So what we do here to harness (Sorry, for the pun) all that lovely energy is: during the day they are in a big, open play yard with lots of shade and wading pools and a great big hill for them to charge down. At night they come in with us. And every chance we get — that it's below 50 degrees — we harness them up and release the sled brake and away we go. (For those of you who have never seen a dogsled team in person, animal abuse is the one you leave behind!)
It started as a way of exercising more than two dogs at a time. After all, a tired dog is an obedient dog. It has become a means of getting rescue publicity. And as soon as we get our cart (soon, the welder promises) we are going to do fundraising with the team. And they love it! They not only get to GO FOR A RIDE! (What could be finer?) They get to meet people and get harnessed up and run off some energy and meet people and GO FOR A RIDE!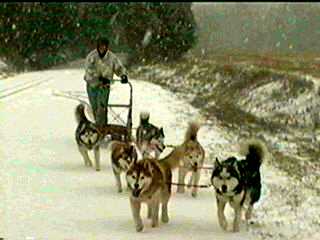 (Back in the 1990s) We have trails behind the house and 4-lane construction in front of the house and hayfields and power lines and lots of forest trails. Our co-leaders Tosha and Nu-Nu are learning commands, but are pretty much trail leaders and not command leaders. Chief and Mark will follow behind as team dog and Misha is wheel dog (up next to the sled).
And there is nothing finer than "six dogs, snowing heavily, resting on the handlebar of the sled because the dogs are in a nice steady slow-downhill trot and the only sound is the fall of snow and the runners sliding through the snow."
Happy Trails!
MisAdventures of a Southern DogDriver