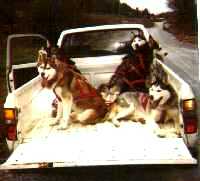 In the camper shell.
Equipment & Tools


| | |
| --- | --- |
| | Grange (sp) tool for tightening thimbles on aircraft cable |
| | Aircraft cable |
| | thimbles |
| | brass 1″ Snap hooks |
| | 2″ brass rings |
| | Carabeaner |
Explanation
The whole idea is to have 6 dogs in the truck camper shell who are hooked in and cannot jump out when the tailgate is opened AND I don't have to climb into the truck bed to unhook the dogs in the front. (Diagram is for one half of this system.)
Make the assembly with rope first to get the measurements correct — i.e., you want the back dog section to be long enough so that the front dog can reach back far enough so you can reach his collar and unclip him. Test dogs with rope assembly BEFORE crimping thimbles on wire cable. Trust me on this one.
To unhook back, middle, and front dogs without climbing into the truck:
| | |
| --- | --- |
| | Unclip the back dog's snap hook and take dog out; |
| | Reach forward and unhook middle dog and take dog out (he's trying to get out anyway); |
| | Clip back dog's snap hook to truck tie-down to anchor assembly; |
| | Unclip caribeaner so the system WILL go through the tie-downs (but only so far); |
| | Dog in front will be pulling to get out the back and assembly should travel enough so you can reach front dog. |
To put dogs in truck, start with front dog, and then be prepared to haul the assembly backward which will drag front dog to the front of the truck while you hook Caribeaner to tie-down.
Tie-out Assembly Diagram
| | |
| --- | --- |
| | The aircraft cable will pass through the truck tie-downs (horseshoe-shapes). |
| | The 2″ rings (large circles) will keep the assembly from pulling backwards through the truck tie-downs. Note positions relative to tie-downs — important. |
| | The Caribeaner (funny-shaped open oval) is hooked through the back 2″ ring and the back truck tie-down and keeps the whole assembly from moving forward. The front 2″ ring keeps the assembly from moving backward. |
| | |
| --- | --- |
| (bottom of diagram = back of truck) | The assembly is made of 1/4″ aircraft cable and covered with diamond, hollow-braided rope for ease of handling on your hands. Snap hooks (circles with 3/4 circles) are 1″ brass. Sections (and pieces) are assembled by making loops at the end of the cable and threading other loops (or pieces) through them. |
Happy Trails!