In the 1999/2000 season, we have been doing a lot of carting (thanks Malamute breeders Barbie and Hank Corwin, Snow Song), but with the Jan 22 snowstorm that dumped 2-5″ of snow on East Tennessee, we had a friend come down and videotape us. These are stills from the first run with Siberians.
Hooking up…

Echo leaping into the air — she's a maniac in harness and this is her 2nd time out!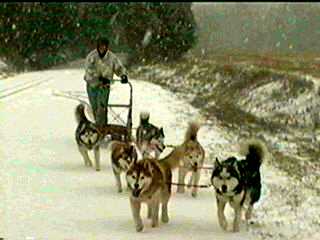 4yos Mark and Nu in lead.
15mo Echo and 3yo John at swing.
12yo Misha and 7yo Chief at wheel.

Snowing while we rest…
Mark and Nu leading out (watch the ROAD, Mark)…
Echo and John, working hard…

Our old boy Misha, head down and working with kennelmate Chief…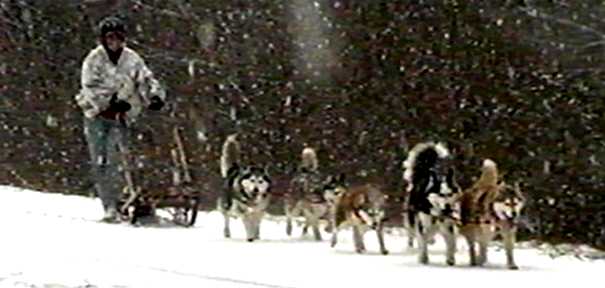 Happy Musher…

Happy Trails!