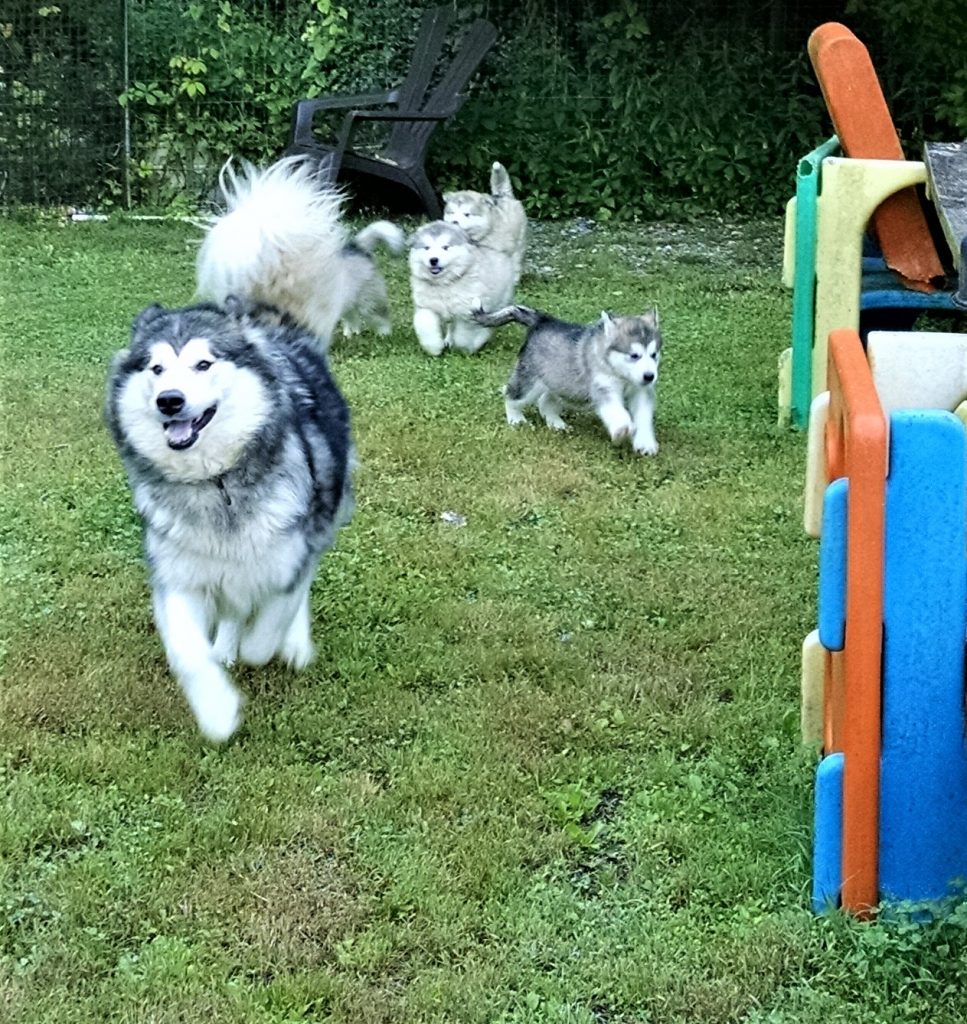 Wayeh Inuit Seafarer "Sailor"
X Wayeh That Voodoo That Youdo Sowell "Gypsy"
THESE PUPPIES ARE ALL SPOKEN FOR!
10-gen COI 18%, anything under 7% is an outcross, but this pedigree doubles on the sugar-sweet AKC mjr ptd UWP Wayeh Rtic Seas "Akai."
Tied 2/5-7-9/20, due 63 days later 4/8, born 4/10, go-home 9 weeks later on 6/12/20.
Sailor: 10-gen COI 7% outcross, OFA (prelim) Good, Thyroid normal, CERF clear, 82#, 24″ (standard), male gray & white
Gypsy: 10-gen COI 10% linebreeding, OFA (prelim) Good, Thyroid normal, CERF clear, 75#, 23″ (standard), female sable & white long-coat.
The long-coat is a simple recessive, like blue eyes in humans, both parents have to give a copy of the gene in order for the offspring to express the gene. The parents don't have to be long-coats (or blue-eyed humans) to carry the gene & pass it to off spring. Gypsy's long-coat is PHENOMENAL, it never mats, it combs out freely, and she sheds with no assistance because she has a coarse guard coat and a properly weather-proof undercoat. I've never had a long-coat like hers, it is effortless, like a correct normal coat. We won't know for sure if these pups are long-coats until they are 5 weeks old.
PLEASE READ THIS FIRST
if you are interested in purchasing
a Wayeh Alaskan Malamute Puppy.
The Puppies
1 Female, 3 gray sable males (Big Snippet, Little Snippet, & Faint Snippet.)
M1 going to Minnesota
M2 going to Huntsville, AL
M3 going to Medford, MA
&
F1 staying @ Wayeh – Wayeh Ship of Dreams "Kimiuk"
Gallery
Pupdate Calendar
(Most events are on the weekend unless noted.)
4/10/20 Gypsy x Sailor 2020 puppies born – 3 gray-sable boys & 1 gray-sable girl. Gypsy is on puppy kibble plus Puppy-Bac by Dogzymes & raw free-range eggs alternated with meat (mackerel, chicken, tuna, turkey, or beef.)
4/12-13-14 (Day 3-4-5) Deworm mom with Panacur/Safeguard (Fenbendazole 22%.)
4/12 (Day 3-21) Early Neurological Stimulation (ENS.) <link>
4/25 (2w) Deworm pups & mom Pyrantel Pamoate.
5/2 (3w) start puppies on the same puppy kibble & Puppy-Bac 2x/day. Start Rules of 7 <link> where they will experience 7 different foods, smells, bowls, surfaces, sleeping places, visitors, car rides, etc. by the time they are 7 weeks old.
5/9 (4w) Quad wormer pups 1/2 pills <10#.
5/16 (5w) Puppy Photoshoot.
5/23 (6w) quad wormer pills >10#, Fishback's Lead Dog Testing.
5/30 (7w) 3-days Panacur/Safeguard (Fenbendazole 22%) dewormer, Advantix 2 flea/tick prevention, & Temperament Tests & Puppy Picks (in order of deposits received.)
6/3 Wednesday – pre-vet visit baths.
6/5 Friday (~8w) vet#1 visit for no-Lepto vaccinations, weights, fecal checks, veterinarian examinations, & AVID microchips.
6/9 Tuesday – (~9w) vet#2 visit for followups & health certificates (for traveling out of state.)
6/13 (9w) Go-Home Day!
Temperament Tests
This litter was a lot of fun. At 6w we did the Fishback Lead dog tests and they followed me EVERYWHERE. Over hill, and yonder dale, around a tractor, and to a barn with free-range ducks — who scattered like the wind when they saw puppies bouncing around. They met human kids and adults, new adult dogs, and discovered hula-hoops, A-frames, and agility dogwalks. Through the whole thing, they were all 4 followers. M1 gets easily distracted by kids. M3 gets easily distracted by shoes. Both big-coated boys think cuddling is more important than exploring.
At 7w we had company over for Temperament tests. Mike R. handled all the puppies and also dewormed them while he was at it. Aleek & Brittany met everyone, cuddled everyone, and played "who's a dishrag" — which is what happened to all 4 of them when cuddled and held on their backs. Pups scored solid 3s for the most part. M3 was slightly more cautious with new things, but the second time he met the hula-hoop, he was merely curious. M1 was very happy to chase balled-up paper, until he discovered it was balled-up paper, then he ignored it. F1 spent most of her time snuffling shoes and M2 became an expert shoe-lace untie-er.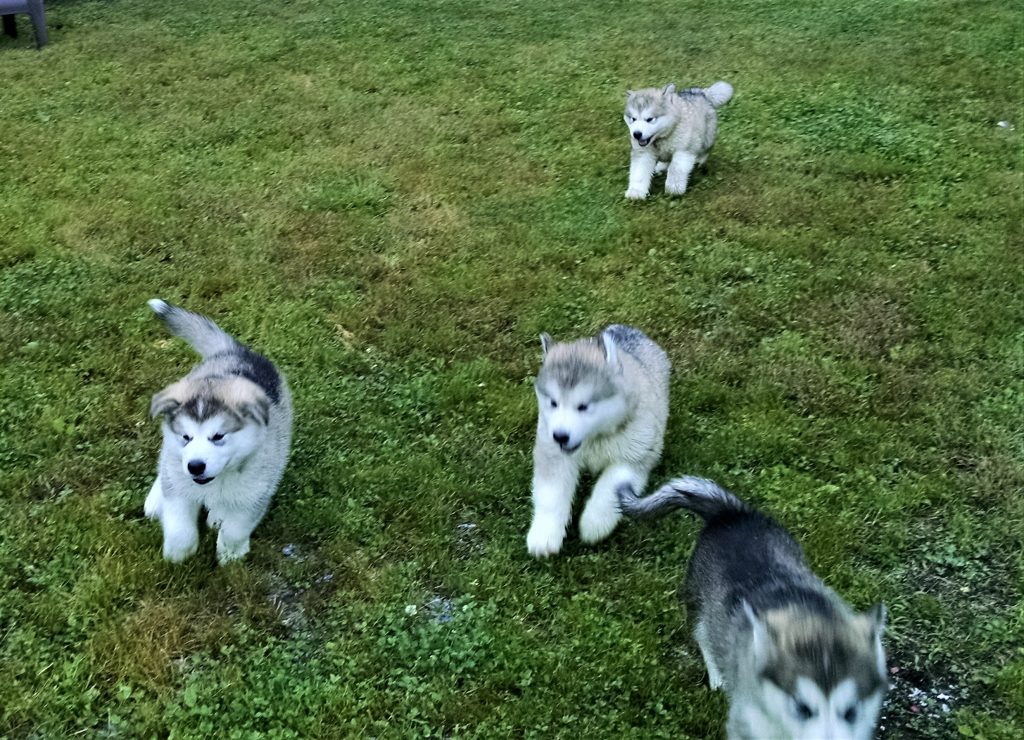 Vet visit & group play
Two of my favorite people helped me organize a group play between Mensa's pups & Gypsy's pups. Those two are my nieces Allison, down from Canada, and her little sister Sloane, who lives next door. We had a lot of fun. And, no, please don't ask me which pup is which, LOL.
Pedigree
Generations
This litter is Wayeh's 12th Generation through CH Sunny.
Wayeh Needa Mist ROM OB-ROM "Wayeh"
Wayeh's Nvwati Svnoyi ROM "Midnight"
CH Wayeh's Sassafras Lass "Razzy"
Wayeh's Shoshone Sunwalker IWPA-WWPDX " Shoney"
CH Wayeh's Arctic Wind's Shadow CGC TT TDI "Shadow"
CH Wayeh's Cherokee Summer CGC WTD "Summer"
CH Wayeh's Soul Song CGC RN WTD WLD "Singer" from the SNOW SONG Litter
CH Wayeh Singin Follow Me Masasyu CGC RN UWP WTD "Sunny" from the MASASYU Litter
Wayeh Pacific Evening Star "Theia" from the STAR Litter
Wayeh-Pacific Here's Mud in UR Ice "Cheers" from the CHEERS Litter
Wayeh That Voodoo That Youdo Sowell "Gypsy" from the CREOLE Litter
SHIPS Litter
Litter Theme – SHIPS
AKC registered names will follow the litter theme:
Wayeh + __________
Call names can be anything you want and can either go along with the registered name theme (the name of a particular kind of ship, or its captain, or a port of call) or can be a more traditional sled dog name. But be aware, if you think it's a great traditional name, likely so do others. We're already at something like Nikko/Nikki #15, Tundra #11, Luna #9, Kodi/Koda/Kodiak #15, Cheyenne #5, Apollo #3, Zues #4, Kira/Kyra/Akira #8, Diesel #3, etc. So here's your chance to be original!
When giving a dog an AKC name, simple is better.
Wayeh Ship in a bottle
Wayeh Ship of Fools
Wayeh Wooden Ships
Wayeh Space Ship
Wayeh Rocket Ship
Wayeh Ships that don't come in
Wayeh Ships passing in the night
Wayeh Ship of Dreams
Wayeh Tall Ships Go
Wayeh Battleship
Wayeh Ship of the Line
Wayeh Ghost Ship
Wayeh Steam Ship
Wayeh Jumping Ship
Wayeh And the Ship Sails On
Wayeh Don't Give Up the Ship
Wayeh When My Ship Comes In "Clint"
Wayeh A Ship of Souls
Wayeh Shipshape
Wayeh Ships A'hoy
Wayeh Ship to Shore
Wayeh Pirate Ship
Wayeh Clipper Ship
Wayeh __________ (a name with the word SHIP that complies with AKC naming standards)