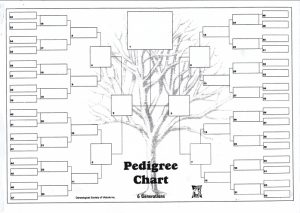 Callnames can be anything the puppy buyer chooses, 'Blue Thunder Sqiggles' if it strikes your fancy (but I strongly advise yelling the name out your front door very loudly a few times before you decide!)  But for official purposes AKC names for each litter have a theme.  For instance WAYEH INUIT (followed by something the owner chooses).
And I would encourage a little dignity in the AKC name, so would strongly, I say again, strongly discourage Wayeh Inuit Blu Thunder Squiggles. Perhaps Wayeh Inuit Thunder "Blu."
But there are tons of options
There are a lot of naming options if you want to continue the INUIT theme, for instance Inuit submitted names.  But remember you have to be able to both pronounce it and spell it to family, neighbors, and your vet.  Wayeh Nvwati Svnoyi was very quickly shortened to "Midnight."
You could chose something alliterative like Wayeh Inuit Ike, Wayeh Inuit Inez, Wayeh Inuit Ichabod (for literary fans).
You can look at the litter PEDIGREE for inspiration.
You could go with classic Malamute names like Tundra, Nikita/Nikki/Nikko, Dakota/Kota/Cody, Misha/Mishka, Kyra/Kira, Bear, Apollo/Zues, Thunder… there's a reason those are the most popular Malamute names, they're classics.
Sometimes it takes a few weeks to find just the right name for the right puppy.  I try to find a unique name for my puppies so we don't fall all over Kiowa2, Tundra16, Nikko7 when we all gather on the Wayeh Folk Facebook Group and post scads of pictures and updates.  All Wayeh puppies answer to 'PUPPY-PUPPY-PUPPY' well into their teens because they learn that one early and often.
Puppies are AKC registered BEFORE 4 months old so there are no late penalties with the AKC and papers are sent to the owners AFTER proof of neuter & OFA hip x-ray (taken at time of neuter AFTER 1 year old), which is spelled out in the Application and Contract.
But AKC names have rules, some of them have evolved over time, some of them are our rules, but we stick with them.  AKC limits the number of letters and won't approve vulgarities or similar rules.  Aside from that, by placing a theme on every litter, it's easier to recognize littermates, and litter themes are sometimes generational.
Wayeh's Soul Song "Singer" is the dam of the SINGN, SINGS & SONG litters. So her kids include:
Wayeh SINGN Follow Me Masasyu "Sunny"
Wayeh SINGS to the Rtic Moon "Seranade"
Wayeh SONG Writer "Amak"
Artic-Luv's Honey BEAR "Honey" is the dam of Wayeh Grizzly BEAR "Kiowa" who is the dam of the APACHE litters. Mensa from the first Apache litter is the dam of the INUIT litter that includes Wayeh INUIT Bearhug "Hugs."
If we breed to an outside stud-dog, we'll add in that kennel name as a courtesy.
Wayeh's Tom-Tom of SNOW SONG — his sire was Rider from Snow Song Mals
Wayeh's Singn Follow Me MASASYU — her sire was Charles from Masasyu Mals
If we sell a puppy to another kennel, their name can go on after the litter theme.
Wayeh Sings into the MYSTIC — co-owned with Mystic Mals
If we breed a co-owned bitch, like Hannah, we used decades of music as her litterthemes: 50s Music, 60s Music, 70s Music. And both kennel names go up front hyphenated.
Wayeh-MYSTIC Peace Train "Pax" — Wayeh & Mystic co-owned the dam Hannah, litter whelped at Wayeh
MYSTIC-Wayeh Malas Aforethought "Sirius" — co-owned dam Luna, litter whelped at Mystic (LEGAL Litter)
Also we dropped the apostrophe S after Wayeh to save space and differentiate between old Wayeh and new Wayeh litters.
Some of this is formal, some of this is informal, but it might explain some of the names of Wayeh dogs over the years.
All the misc. letters in front of and behind their names are TITLES. That's another post.