Diet for dogs is so individual. There are three rules you must adhere to:
Does my dog thrive on it?
Can I source it?
Can I afford it?
Realistically, if you can't afford it, it doesn't matter how well your dog does on it. The best diet I ever fed was a combination of prey-model/BARF. But that was when I had local sources, a commercial chest freezer, half the dogs I have now, and a full-time job with Boeing. Things change.
So now, we feed kibble plus raw meaty bones and a few careful supplements.
Sam's Club Member's Mark Exceed Salmon & Pea, grain-free, no corn, no soy, no wheat. 27/15, $35/30# ($1.17/#)
Salmon, chickpeas, menhaden fish meal, dried potatoes, pea protein concentrate, animal fat (preserved with mixed tocopherols), dried peas, dried plain beet pulp, natural flavor, potato starch, ground flaxseed, vitamins & minerals.
TSC's Diamond Naturals Chicken & Rice Adult, no corn, no soy, no wheat, 26/16, $37/40# (93c/#)
Chicken, chicken meal, whole grain brown rice, white rice, cracked pearled barley, chicken fat, oatmeal, dried beet pulp, egg product, flaxseed, natural chicken flavor, fish meal, vitamins & minerals.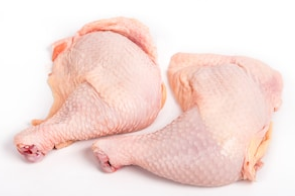 Dogs also get bone-in skin-on raw meaty bones 1-3x/week, 50-99c/#.
And at least once a week, their kibble gets "topped" with one of the following.
Nupro contains: Norwegian kelp, ground flaxseed, yeast culture, dessicated liver, bee pollen, flaxseed & borage seed, lecithin, garlic, & acidophilus.
Probios is bulk probiotic which also comes in chews for dogs. I use the powder because it sticks to kibble better.
Grizzly Wild-caught Salmon Oil needs no explanation.
But the DE might. Food-grade Diatomaceous Earth (not pool grade) is a natural mechanical dewormer. Not a chemical dewormer that parasites can develop resistance to. It's not a food, per se, but I put it here because we use it regularly on their kibble.