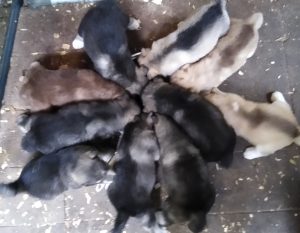 Wayeh Inuit Seafarer "Sailor"
X Wayeh Get a Lil Mud on UR Tires "Bayou"
Available, males & females. Picks in order of deposits at 7 weeks after evaluations.
PLEASE READ THIS FIRST
if you are interested in purchasing
a Wayeh Alaskan Malamute Puppy.
10-gen COI 18%, anything under 7% is an outcross, but this pedigree doubles on the sugar-sweet AKC mjr ptd UWP Wayeh Rtic Seas "Akai."
Born 8/13, go-home 9 weeks later on 10/15/20.

Papa Sailor: 10-gen COI 7% outcross, OFA Good, Thyroid normal, CERF clear, 82#, 24″, gray & normal coarse (weatherproof) coat
Mama Bayou 10-gen COI 10% linebreeding, OFA (prelim) Good, Thyroid normal, CERF clear, 70#, 23″ (standard), agouti & a lovely harsh coarse (weatherproof) coat like her Kotzebue ancestors. Masked like gr-papa Akai & gr-gr-papa Clay.
Color Genetics
The agouti gene is the original color for wild canines. And its inheritance is a little different than grays or seals in that one of the parents must be an agouti for any of the puppies to be agouti (or true black.) Agouti is to true Black as gray is to Seal, it's just a matter of how much black is on each hair shaft. The red gene is a simple recessive, like blue eyes in humans, both parents must carry the gene. All of this explains why gray Sailor and agouti Bayou produced a litter with: grays, agoutis, a true black, reds, and a red agouti. Fun! For more information, cruise the Malamute coat color genetic website.
The Puppies
This litter includes 1 red agouti female, 2 red females, 4 agouti females, 1 gray male, 2 agouti males.
First pick show female (staying @ Wayeh)
Second pick show female (going to Summer Ice Mals in Tallahasse
Third pick show female (going to Mystic Mals in Nashville)
Fourth pet female Reserved for the Sparlings
Fifth pick pet female AVAILABLE
Sixth pick pet female AVAILABLE
Seventh pick pet female AVAILABLE
&
First pick show male (staying @ Wayeh)
Second pick pet male Reserved for the Tilfords
Third pick pet male AVAILABLE
Gallery
Everyone
Female 1, red agouti
Females 2 & 3, red & whites
Females 4, 5, 6, & 7, agouti & whites
Male 1, gray & white
Males 2 & 3, agouti & whites
Pupdate Calendar
(Most events are on the weekend unless noted.)
8/15/20 Bayou x Sailor 2020 puppies born – 1 red agouti female, 2 red females, 4 agouti females, 1 gray male, 2 agouti males. Bayou is on puppy kibble plus Puppy-Bac by Dogzymes & raw free-range eggs or meat (mackerel, chicken, tuna, turkey, or beef.)
Day 3-4-5 Deworm mom with Panacur/Safeguard (Fenbendazole 22%.)
Day 3-21 Early Neurological Stimulation (ENS.) <link>
2w Deworm pups & mom Pyrantel Pamoate.
3w Start puppies on the same puppy kibble & Puppy-Bac 2x/day. Start Rules of 7 <link> where they will experience 7 different foods, smells, bowls, surfaces, sleeping places, visitors, car rides, etc. by the time they are 7 weeks old.
4w)Quad wormer pups 1/2 pills <10#.
5w Puppy Photoshoot.
6w Quad wormer pills >10#, Fishback's Lead Dog Testing.
7w 3-days Panacur/Safeguard (Fenbendazole 22%) dewormer, Advantix 2 flea/tick prevention, & Temperament Tests & Puppy Picks (in order of deposits received.)
7w 10/3 Saturday PUPPY EVALS
8w – (10/7 Wednesday) pre-vet visit baths.
8w (10/9 Friday) vet#1 visit for no-Lepto vaccinations, weights, fecal checks, veterinarian examinations, & AVID microchips.
9w (10/16 Friday) vet#2 visit for followups & interstate health certificates
10/17 (9w) Go-Home Day!
Temperament Tests
Vet Visit & Group Play
Pedigree
Generations
This litter is Wayeh's 12th Generation through CH Sunny.
Wayeh Needa Mist ROM OB-ROM "Wayeh"
Wayeh's Nvwati Svnoyi ROM "Midnight"
CH Wayeh's Sassafras Lass "Razzy"
Wayeh's Shoshone Sunwalker IWPA-WWPDX " Shoney"
CH Wayeh's Arctic Wind's Shadow CGC TT TDI "Shadow"
CH Wayeh's Cherokee Summer CGC WTD "Summer"
CH Wayeh's Soul Song CGC RN WTD WLD "Singer" from the SNOW SONG Litter
CH Wayeh Singin Follow Me Masasyu CGC RN UWP WTD "Sunny" from the MASASYU Litter
Wayeh Pacific Evening Star "Theia" from the STAR Litter
Wayeh-Pacific Here's Mud in UR Ice "Cheers" from the CHEERS Litter
Wayeh Get a Lil Mud on Ur Tires "BAYOU" from the CREOLE Litter
ADAK Litter
Litter Theme – ADAK
AKC registered names will follow the litter theme:
Wayeh ADAK + __________
Because Adak is the southernmost city in Alaska. Also an island. Call names can be anything you want and do not have to reflect the registered name, but it's easier to remember if they do. You can make up a name if you want as well to reflect a more traditional sled dog name. But be aware, if you think it's a great traditional name, likely so do others. We're already at something like Nikko/Nikki #15, Tundra #11, Luna #9, Kodi/Koda/Kodiak #15, Cheyenne #5, Apollo #3, Zues #4, Kira/Kyra/Akira #8, Diesel #3, etc. So here's your chance to be original!
And to make it a little more difficult to be creative, traditionally, agouti puppies at Wayeh have the word MUD in their AKC names to honor Muddy Waters "Clay," our first agouti.
Masasyu's Muddy Waters "Clay"
–Wayeh-Pacific Get a Little Mud in UR Ice "Cheers"
—-Wayeh Get a Lil Mud on UR Tires "Bayou"
——Wayeh ADAK Red Mud Slide "Zydeco" (for a red agouti puppy)
And the reds usually have something in their AKC name to acknowledge the red color… Blaze or Red or Spark or Ember or…
Despite all that, when giving a dog an AKC name, simple is better.
Wayeh Adak Cheechako
Wayeh Adak MudBug "Chako"
Wayeh Adak __________ (any name that complies with AKC naming standards)