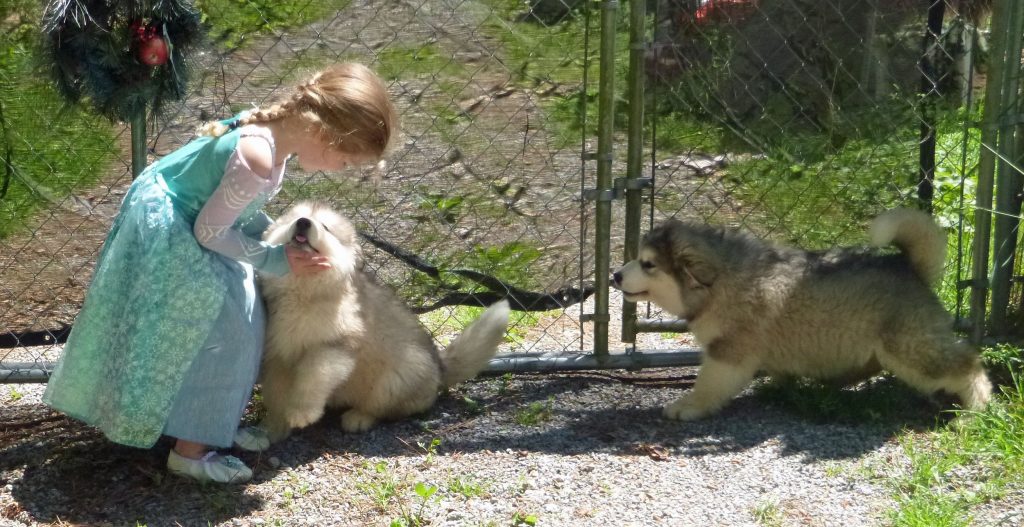 (Wayeh First to Nome "TD" X Wayeh That Voodoo That Youdo Sowell "Gypsy"
10-gen COI 15%
This pedigree features three dogs out of Artic Luv's Dancin' Bearfoot "Yogi" and three dogs out of CH Wayeh's Soul Song CGC RN WTD WLD "Singer"
PLEASE READ THIS FIRST
if you are interested in purchasing
a Wayeh Alaskan Malamute Puppy.
TD is "First to Nome" and Gypsy is, well, a gypsy, so together they produced the KIVIUQ litter. Both dogs, ironically, came back to Wayeh after placement. Think of KIVIUQ as the Inuit Odysseus, if he circumnavigated the pole and could transform into a seal by wearing its skin. Like original Brother's Grimm, these stories have not been sanitized for children.
The Puppies
F1/Sable/Dishes is now Wayeh Kiviuq ____________ "?" (VA)
F2/Blaze/Happy is now Wayeh Kiviuq ____________ "?" (OH)
Pedigree
Galleries
This is what some Wayeh long-coats look like as adults.
The two girls of the KIVIUQ Litter
Above is Female1, light sable gray LONG-COAT.
Above is Female2, gray LONG-COAT with blaze.
Fishback's Lead Dog Testing (6w)
Saturday, 3/23/19 – Thanks, Pam W., for coming up for puppy evals. We took pics and played follow the leader. Both pups were clingy, i.e. highly people oriented. They preferred to stay very close to who they already knew. They were propelled by their tails and grinned most of the time, and would follow me wherever I went. They were less enthusiastic with a stranger. But if I led them away from their mother who was hollerin' for them, they'd still follow me with encouragement. Sticks were fun. Pine cones were merely interesting, even when they fell out of the sky right in front of them. Obstacles were fine, so long as they could follow someone over the obstacle. No fear of tall grass or downed tree limbs or breezes blowing. Neither ventured out front either. On the whole F1 (sable) stayed closer than F2 (blaze). But F2 (blaze) clambered all over me sitting down. F1 (sable) just got close and stayed close. Neither seems to have the confidence for single leading, but either could work with a running buddy.
Above is both girls, F1/Sable & F2/Blaze, 7wo.
Female1 (sable) 6wo
Female2 (blaze) 6w
Random 7w pic
Sunday, 3/31/19. Londa & Arlys H. came to visit. Had to get a puppy fix while they were here. Yes, I dragoon everyone who comes to socialize puppies. Not that it's much of a hardship for them. We played and romped and met some adults and came back and played with puppies again.
Temperament Tests (7w)
Monday, 4/1/19. Thanks to 4yo Sloane (my niece), as well as Melissa R., Megan C. & Briana S. who came for a puppy visit and got to (unwittingly) do Temperament Tests as well.
Above are both girls (7wo) and the crew that did our temperament tests. We met the pups first, then visited the rest of the dogs. Then came back and little did they know, but we did temperament tests. These 2 pups are long-coats. There's a genetic chain, as yet unidentified, that links the long-coat gene in Malamutes with lovely fat skulls, massive bone, and super sweet temperaments. These two girls have it in spades. Their parents do as well. When mama Gypsy met these new people with her puppies running around, her first instinct was to throw herself on the ground and show her belly. How's that for temperament. Their daddy TD, came barreling out of the kennel and jumped up on the retaining wall so he was on level with them and shoved his massive paw at them, Shake, please, shake! The puppies did the same thing, belly rubs and hold-my-paw. With a fair dose of grins all the way around. These are HAPPY puppies out of HAPPY parents.
Temperament Tests

We didn't do formal temperament test, because that makes new testers uncomfortable. But I've done so many of them, I kept a running tally in my head. F1 is light gray sable with no blaze (she has a solid gray forehead) and F2 is a gray with a blaze (white stripe) on her forehead. Both puppies were submissive to people (offering belly rubs), were relaxed and welcoming when picked up but not tail wagging until set back down again. They approached strangers with tails wagging, and reapproached after being picked up. They chased Sloane when she squealed and ran (as 4yos do). And they came running when called PUPPY-PUPPY-PUPPY! They were relaxed being elevated off the ground 6″ and explored their new surroundings happily. There were slight, very slight differences in personality, but you had to look carefully to find them. F2/Blaze is slightly more bold, slightly more confident. F1/Sable is slightly more inclined to hang back when her sister barrels into a situation, by maybe a second or two, she's slightly more a follower where F2 is slighly more a leader. These differences are… wait for it, SLIGHT. They are very similar in personality and they ranked as solid 3s for most of the tests. Neither showed aggression in any form. Neither showed dominance at all. Check out their pictures.
F1/SABLE
F1/Sable 7wo, belly rubs, approached for attention, definitely the follower of the pair, which could change for the better if she were in a home with a very laid-back male dog. Male-female relationships between Malamutes are dynamic and a puppy will play puppy for a good long while. While she evaluates the situation. Don't be surprised if she makes a move for canine leadership in a 2-dog pack when she reaches 11-18 months. A laid-back male will allow a female a lot of latitude. Especially if he has raised her from puppyhood. But he may also put his paw down and say no.
F2/Blaze
F2/Blaze. A happy-go-lucky kind of puppy. Also offers belly-rubs, as well as hold-my-paw. She's more the leader of the pair, but only slightly. Paired with a laid-back male dog, she's going to pester him for leadership at the 11-18 month range, and he's likely to give it to her. Do not under any circumstances allow her to do the same with her humans. It's cute when they are 20#. Not so much when they are 80#. She is not dominant, not independent, and not inclined for true leadership. Not with humans. But in the absence of true (human) leadership, a Malamute will try to take over. And Malamutes suck at it. What Mals want and need and crave, is true laid-back leadership from their humans. Give clear directions and they will follow them clearly. Don't allow a sweet, bold, happy puppy to become a tyrant. Nobody is happy then, least of all the dog
F1/SABLE
Getting ready to go the first Vet Visit, so we did baths & grooming.
F2/BLAZE
Run, run, running, here and yon and back again.
Vet Visit #1 (8w)
Friday, 4/5/19.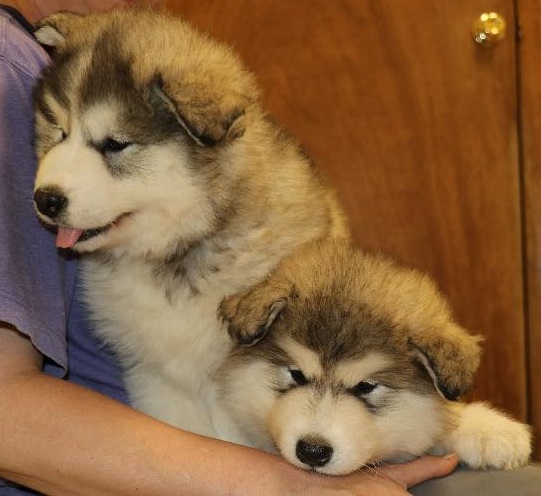 The Princess and the Puppies (10w)
11 week pics
11w pics with 4y Sloane
Sloane & the pups (11.5 weeks)

Just the pups 11.5 weeks