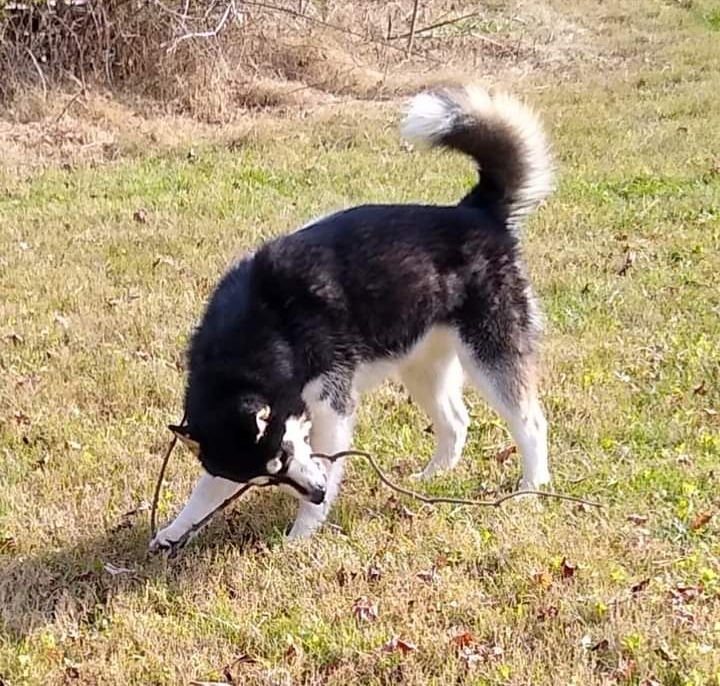 ROSIE
b. 4/4/20 seal Alaskan Malamute FEMALE housedog
Already spayed, AKC limited registration, AVID microchipping, vetted & UTD on vacc., Heartworm, and monthly flea/tick.

Lean, svelt, goofball ROSIE from the Alyosha X Mensa BOOKS Litter needs a new home. She is emotionally intuitive with her teenagers and her adult people. She goes on daily runs with the tweenager boy in the neighborhood. When someone isn't feelng well, she is right there for cuddles. She is great with neighborhood dogs down to Dachshund size and adores her adult male Malamute housemate. She would even sense his impending seizures and press against him until they laid down together, and she stayed with him until it was over and he returned to his normal self.
But there was a problem with a 3#, 15yo, senile, off-leash, out-of-control, holy-terror dog who went after her boy. The little dog was put down and Rosie's owners returned her after that. They couldn't buck the HOA or manage financially to move at that point. They are devastated, Rosie was devastated. But she came back, settled right in and found another male dog to buddy-buddy with.
She is a young dog with a tremendous amount of giving left to do. Her adoption fee is $250 plus completion of a public, group obedience class to forge a bond between you and her, and also to prove your commitment to her future happiness and well being.
Recommended for all Available Malamutes!
1) Fenced-in yard or a serious human athlete with a daily plan for exercising a tenacious breed designed to pull the entire family's belongings in the most inhospitable place on earth.
2) A Basic 8-week group obedience class is a must so you bond with them and they learn to trust you outside the home.