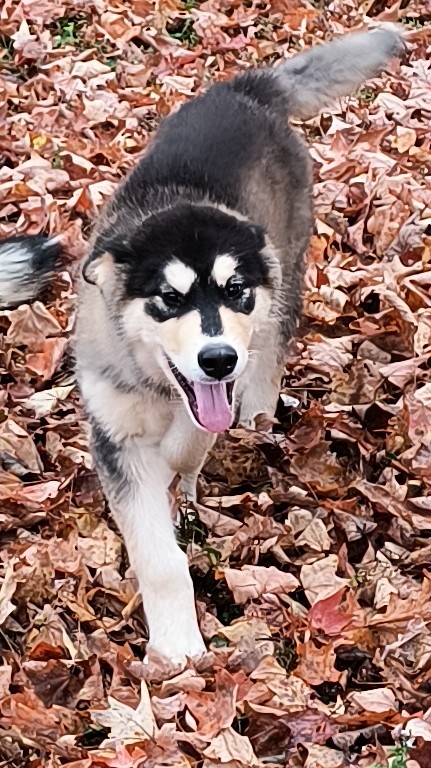 SEAL Male
b. 6/12/23 Alaskan Malamute MALE $1000
To-Be-Neutered by owner, AKC limited registration, AVID microchip, & UTD on vacc., Heartworm, and monthly flea/tick.

SealBoy is a lover from the TD X Liberty IDITAROD-STOPS Litter. He has lived with his whole litter and mama Liberty for invaluable puppy socialization, crate training, and clicker training. Living as a puppy pack with mama Liberty means he has learned invaluable lessons about canine hierarchy. Hierarchy is all to Malamutes. Once that is established, peace will reign throughout the land.
His rehoming costs will include you completing a public, group obedience class to forge a bond between you and him, and also to prove your commitment to his future happiness and well being. Something like Petsmart or Petco classes are great, because if you can loose-leash walk with attention through the gerbil aisle, you can walk with attention anywhere else, as well. This requirement does NOT mean private lessons and it doesn't matter how many times YOU have completed this type of class in the past, anyone who actually understands dog training will understand that this requirement is for HIM. Plus you will have to neuter at 1 year
Public group classes are recommended for all Available Malamutes!
1) Fenced-in yard or a serious human athlete with a daily plan for exercising a tenacious breed designed to pull the entire family's belongings in the most inhospitable place on earth.
2) A Basic 8-week group obedience class is a must so you bond with them and they learn to trust you outside the home.