November 2011 – Yard Party for my birthday…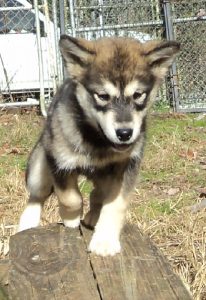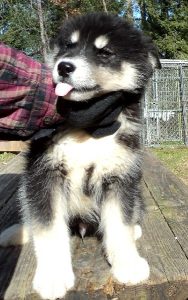 3m Cheers (agouti & white) & Midnight (true black & white) out of Clay & Theia

Wayeh-Pacific Here's Mud in Ur Ice "Cheers"
&
Wayeh-Pacific After Hours "Midnight"
---
Kiowa plus her Clay kids Comanche & Murky.
Maestro (dark gray sable), out of Charles & Singer, & his 16m neice Alice (gray sable) out of Yogi & Luna, leading the chorus…
Mystic-Wayeh Full Moon Fever "Alice"
Maestro's ChaCha kids (19w), ChaCha (seal) & ChaCha's mama Sunny (gray)
Artic-Luv's Black Gold "Indigo"
October 2011 Working Dog Association, Athens, TN, UKC – Pax and Tori are magnificent in harness.
Pax (90# and still skinny) has had some training, and went to the AWP pull in July where he figured out what this was all about, head to toes and bangin' the harness. That's just what he did. In fact he came in second both days, beaten only by a Pittie on Saturday and a Cane Corso on Sunday, both times by only one pull, or 50#.
Tori (a perfect 75#) had to have a little encouragement in the lower weights — she's Wyatt's mama, afterall. But once the weights got serious, she was nose to toes and bangin' the harness as well.
October 2011 Playdate — Tom & Singer 11y, 11m — and her great-grandkids Kara, Bearing, Fanny & Comanche
Bearing & Kara (Akai X Honey pups, sisters to Grace & Maverick)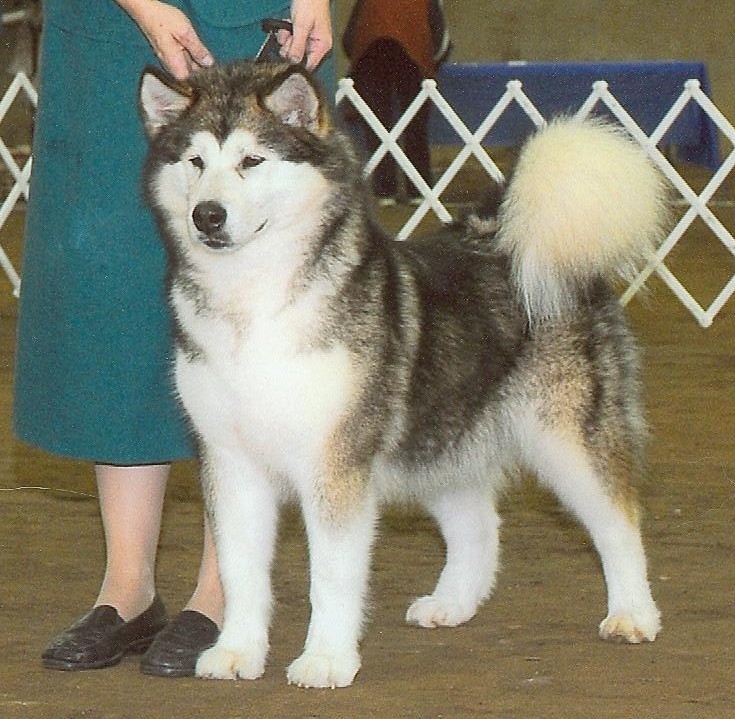 10/2011 Murfreesboro, TN, AKC conformation show – Akai & Bright. Bright brings home 3 more points!
AKC ptd Wayeh Star Light Star Bright "Bright" (4 pts)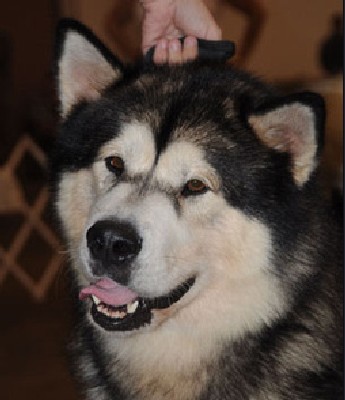 9/2011 Chattanooga, TN, AKC conformation show – Akai & Bright. Akai brings home 4 more points!
AKC mjr ptd Wayeh Rtic Seas "Akai" (6pts, 1 mjr)
7/2011 Oak Ridge, TN, APBA weightpull @ ORKC. Pax & Wyatt pulled on rails for the first time, which took some getting used to. <G> But they both still managed to come home with their first APBA weightpull title, and a first place, and 2 third places… they are now
AWP Wayeh Wanna Be a Cowboy "Wyatt"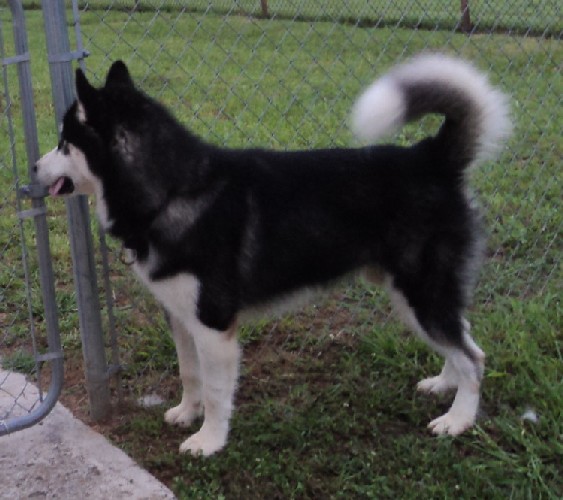 AWP Wayeh-Mystic Peace Train "Pax"
Jan 10, 2011 – 5″ of snow! And still falling….
January 2011 Hannah & her sons Pax, Boogie, & Kindred…
Mariah, call the wind softly… 12y5m..
Dam of Tori, granddam of Wyatt, (great-granddam of TD, great-great-great granddam of Poppet)