December 2009 – a slew of OFA hip ratings
| | |
| --- | --- |
| | <2y Pax – Prelimmed OFA Good |
| | <2y Wyatt – Prelimmed OFA Good |
| | 2y Akai – OFA Good |
| | 5y Clay – OFA Excellent |
| | 3y Yogi – OFA Excellent |
| | 3y Honey – OFA Excellent |
| | 2y Music – OFA Excellent |
| | It was a good month for official OFA x-rays. next up adult OFAs for Baroo (prelim X), Trumpet, Smoky (prelim G), & Bright (prelim G) |
June 2009 – Playing in the Sun… 3 littermate brothers – Pax, Hoodoo & Smoky. And Wyatt.
June 2009 – AKC Rally-Obedience @ Waynesville, NC… Sunny earns her RN and Sera her RA — way to go, girls!
Sera earns her Rally-Obedience Advanced — this is OFF LEASH.
May 2009 – AKC Rally-Obedience @ Harriman with my kennel club Oak Ridge Kennel Club (ORKC) where I teach Rally, clicker, and CGC…  Sunny earns 2 RN legs, Sera earns 1 RA leg (they both now need 1 leg each to title in Rally….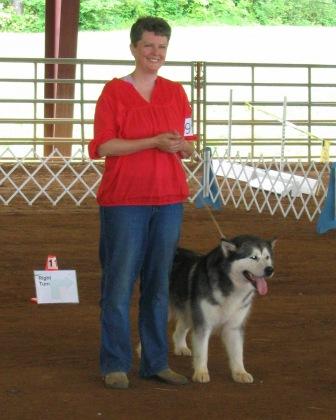 April 2009 – UKC weightpull and breed in Athens, TN (TN Working Dog Association & the Great Smoky Mtn Dog Club).  Darlene M. owner of Naula & Hoodoo, went with Seranade & Brady & I, and we had so much fun….  Sera finished her first UKC weightpull pulling over 900# uphill on a dirt track, so she is now:
Wayeh Sings to the Rtic Moon CGC RN UWP "Seranade"
(Nikko X Singer 05)
Hoodoo is Wayeh's first UKC-Champion and is now:
U-CH Wayeh-Mystic Who Do You Love "Hoodoo"
(Brady X Hannah 08
&
UKC mjr ptd Wayeh Rtic Naula "Naula"
(Yogi X Seranade 07)
Brady earned another leg towards his UWP (needs 1 to finish). RBIS UKC mjr ptd/INT CH Ksarah's Hope Inditarod (2/3 UWP) "Brady"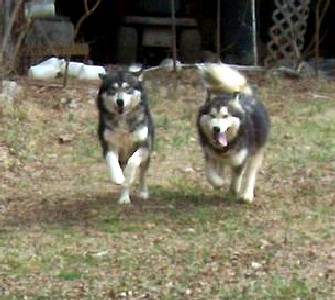 In March, 3/4 Kotzebue Clay, who came to us from Masasyu as a 2y to run on our teams, celebrates his 4th birthday with a litter of puppies from our Miss Parka, which included Wayeh's first homebred Agouti, who will be co-owned in Atlanta.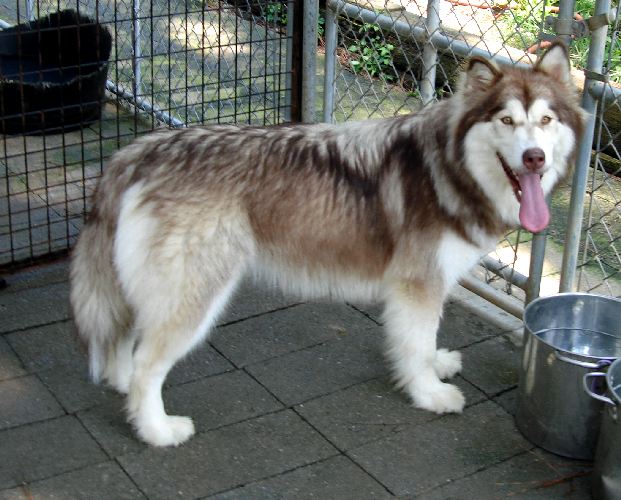 March also say another Wayeh first.  Amak (Yogi & Singer) X Kayobi (Nikko & Ruby) delivered Wayeh's first homebred reds — 3 of 8.  Wow.   One of them will be Dawson.
2009 started out with snow, cold weather, and the loss of one of our young dogs Rtic in February to eating a string.  We miss you, baby.