May 2003 First time in the ring @ 6 months, 17 days, Storm took RWB over 2 adults — including kennelmate cousin Singer. Oops.
And then the next weekend – a major for a puppy!!!!!
Might have to leave her home as Singer hunts for those last 4 singles. Not. Singer's on her own.
March 2003 Malamute Singer picks up both AKC majors at Franklin TN and the dogs got to primp and fuss and beg attention from everyone. And didn't forget to sing with the National Anthem.

Brother Snowman is named the 2002 AMCA Flaming Flirt in Obedience! Way to go Snowman and Lynne!
Malamute Kate loves her toys.  She was bitten in the face as a puppy and her bite and tooth development suffered.  After surgery, she now has pretty, healthy, white teeth and has found a love for toys that won't quit — obviously.  Pain-free, she has become downright greedy about those toys! 
Feb 2003 Siberian Bess and Malamute Singer get their 2nd working lead dog (WLD) legs!
Jan 2003 We got an unexpected gift, snow 2 weeks in a row, and cold temps down in the negatives.  Gift to the dogs, curse to Southern plumbing.  (Burst pipes flooded the basement).  Meanwhile, we took out a big team on the cart — it was only 4″ of snow, not enough to pack for the sled, although we tried that first. This team is Siberians Nu & John in lead, Jazz & Bess at swing, puppies Ruth & Sam at team, and Malamute Singer solo at wheel.  Where is Malamute Tom?  Off running the roads by himself — not something we're very happy about, and all turned out well.  But when I was hooking up, he banged his harness so hard it snapped his snaphook.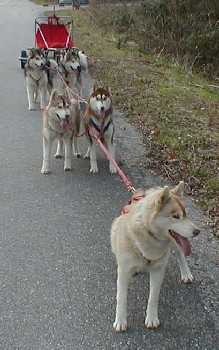 Jan 2003 Siberian Bess & Malamute Singer get their 1st working lead dog (WLD) legs.