December 2002
Malamutes Tom T. & Singer backpacking on the Piney River segment of the Cumberland Trail. Just a dusting of snow, but enough to drop the temps and keep everyone else away.
---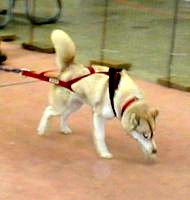 Siberian Bess finished her weightpull title (WWPD) at Danville, KY & Welcome new Malamute grand puppy Storm to Wayeh.
November 2002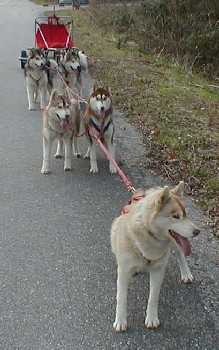 Nov 02 – Bess leading the puppy team consisting of 8mo Siberian puppies Ruth & Sam (Jazz X Bess), and 8mo Malamute puppies River & Kate.  These puppy runs are usually NOT on asphalt as the picture indicates, but there is a short section of road between grassy shoulders and hayfields — where we do most of our route.  These are short jaunts that are always happy — no matter how much like knuckleheads they are acting.  
---
Malamute Singer gets 5 AKC points at Knoxville, TN.
Puppy Malamute Totem's Riverdance "River" (& her brother JT) go RWB (& RWD) at their first show, 6mo.
All 6 adult Siberians Bess, Jazz, Nu, John, Rebel & Brandi finished their working team dog titles (WTD) with TNMush.