I was asked in another forum about backpacks, so to start with, what do I carry? (This post will evolve as we continue training and conditioning.)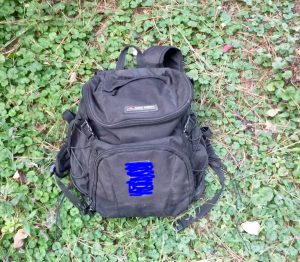 My black training pack, the one I don't care if I tear up or gets destroyed by circumstances or Malamute, is a thrift-store High Sierra with a label from some long-ago promotion. It's a heavy denier nylon, has daisy chains on each side, multiple zippered pockets, adjustable shoulder straps, and even a 1″ nylon-strap waist belt, even if it rides on my ribs. It's a very good backpack, more than a book bag, a very useful daypack, but less than an overnight pack. Thrift stores have all kinds of helpful things for the budget conscious.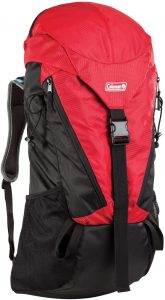 The red Coleman Etesian 45L backpack is discontinued (far as I can tell). I really like this pack a lot. It was my first "serious" hiking backpack, stepping up from day packs, thrift store purchases, or school bookbags. It has the webbing to keep the actual pack off your back, a hip belt, pockets and daisy chains and a brain. It has a hydration bladder, which I don't use, but some people do. And best of all, it was only about $50 at Walmart. It carries my 3-season or my 4-season hammock gear, but the ride is not as good as my Osprey.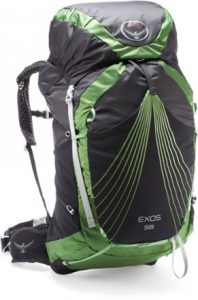 So when I wanted to upgrade to a "serious" backpack (before I got sick, before surgery, back when Pax & I were training for a 10-day winter hiking trip on the Canadian border) I started looking at ultralights — and they seemed not rugged enough and way too expensive. But I liked the minimalist approach. I also like the Osprey came in different sizes depending on the length of my hips to shoulders. REI helped me fit it and it was like it wasn't there at all. It weighs 2# without the brain but as all the features of the 6# pack I was originially looking at. Since I'm not a thru-hiker or a true ultralighter, but I am old enough I don't want to carry extra weight on my knees, and I prefer Southern winter hiking/camping which requires more volume capacity for all that warmth, I went with the green Osprey Exos 58L.
I love this pack. I love everything about it. But when we're training, until we get close to the actual hike, I'm sticking with the High Sierra daypack and then the Coleman because if I'm going to tear up a pack, I want it to be a $2 or $50 backpack.