Big D., Sloane & Co.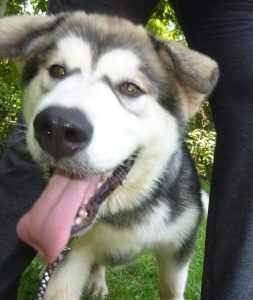 Today 4mo Dresden visited 4yo Sloane, and her dogs Maggie & 4mo Stella Bella.
Stella, the 4mo Pug, scared D so much, he clambored back into the van and his crate and stared at her in shock.
Now, Pugs are not exactly kissing cousins of Alaskan Malamutes, but he had no problems with Maggie the lab-X. So we crated Stella and he got to play with Maggie and learn some obedience and leash walking from 4yo Sloane… yes, FOUR-year-old Sloane.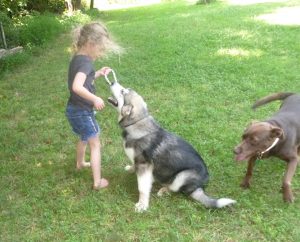 Dresden is teething, so we're watching his ears VERY closely and playing the EAR game, getting him to use the muscles, lift the ears, tilt them forward and back as much as possible while we watch (anxiously) to see if they come up after his body quits stealing calcium for his teeth.
He's a soft-natured boy who doesn't start trouble and avoids confrontation whenever possible.

Gallery of the Playdate