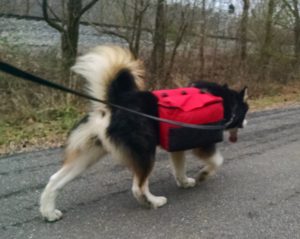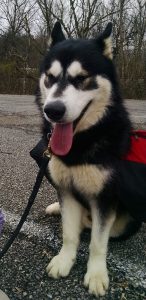 Morning Trip Report. 44/60°F overcast & a little gloomy except I was walking with King Goof Alyosha (with his pack.)
I had Indian food for the first time in my life yesterday at my first SIL Beth's house yesterday. It was incredible! Fish, shrimp, & a tender pork cooked in cider & yogurt. Winter squash, kidney beans, cheese, kale & spinach, & so much more. Chutney mango and cucumber yogurt. Yum, yum, yum. A fruity smooth cheesecake with mango & blackberries & a pistachio crust. Individually, I had these things before but never spiced this way, cardamon & curry & lovely, yummy stuff I had no idea existed. Wow!
But this morning I was creaky (nothing to do with the yummy food.) Gingerly I went through my Tai Chi Warm Ups, plus a 3-part widelegged Knocking on the Door of Life, and a 4-part squat routine which is brand new for me because I was doing hands-free squats for the first time since I was a toddler! (So another first for me.)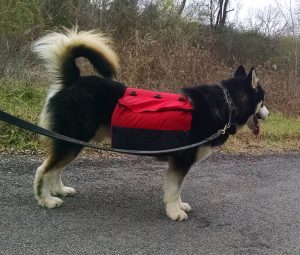 Speaking of firsts. Alyosha has bred Bayou, so she is on hiatus from backpacking this winter. And after the snow, and his rendezvous with our Cajun girl Bayou, he was full of beans — or something — so today was remidial work. Loose leash walking. Mindfulness. And Alyosha is a dog who really wanna go! I think we managed enough steps to climb the Eiffel Tower. Twice. This morning.
Nothing was working right. He was all about beating feet down the trail. He knew all my tricks. My oops meant hesitate then drive on. My tug on the leash meant zoom in a circle around me then drive on. So I had to step up my game and lose all ambition to put miles on the clock and just meander. He figured it out. But we walked twice as many miles as it looks like on paper.
Of course Alyosha was as sweet as ever. And when we stopped at the firehall, he decided since there was obviously something seriously wrong with me today, that I needed a cuddle. I love this dog.
Happy Trails.
–SHS 2019