Mystic Wayeh Commander Bearing "Alyosha"
(AKC ptd Mystic-Wayeh Dark Side of the Moon "Fender" X Wayeh Bearing Sea "Grace")
WS63486902, born 1/7/2018 @ Mystic, 94#/26″ skinny working weight @ 13months
10-gen COI 3.9% (An outcross, anything under 7% is an outcross, but this breeding nonetheless doubles on CH Wayeh's Soul Song CGC RN WTD WLD "Singer.")
OFA Prelim (GOOD), Thyroid normal, CERF TBD
Bred by Mystic Malamutes/Nannette Clark, continuing the long collaboration between Mystic & Wayeh.
Owner/Handler Sidney Helen Sachs, Co-Owners L & L Haskell
We are so glad to have Alyosha and his littermate sister Yuki here at Wayeh. Alyosha is McSteamy, he loves the ladies, he loves his food, he loves showing off, he loves being the center of attention. He's also a goofball, so watch out or he'll give you a full body hug when you're not paying attention. A perfect gentleman on leash, after the first 200 yards and until the last 200 yards, then he gets a little excitable.
Galleries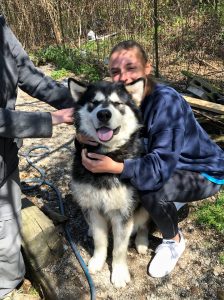 Yosha learning to weightpull
15mo Yosha hiking
Baby Yosha
Pedigree
Generations
Yoshi is Wayeh's (honorary) 11th Generation.
Wayeh Needa Mist ROM OB-ROM "Wayeh"
Wayeh's Nvwati Svnoyi ROM "Midnight"
CH Wayeh's Sassafras Lass "Razzy"
Wayeh's Shoshone Sunwalker IWPA-WWPDX " Shoney"
CH Wayeh's Arctic Wind's Shadow CGC TT TDI "Shadow"
CH Wayeh's Cherokee Summer CGC WTD "Summer"
CH Wayeh's Soul Song CGC RN WTD WLD "Singer"
UWP Wayeh Sings to the Rtic Moon CGC RN RA "Seranade"
UWP AKC Mjr Ptd Wayeh Rtic Seas "Akai"
Wayeh Bearing Sea "Grace"
Mystic-Wayeh Commander Bearing "Yosha" (bred by Mystic)