Tok, a backpack, & a new 3m route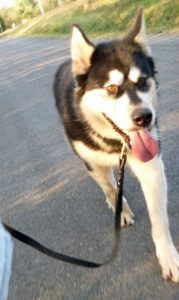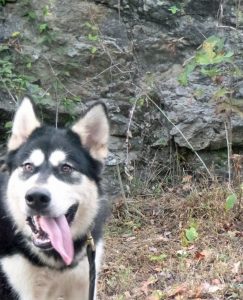 Morning Trip Report 10/4/2019 — Tok, a backpack & a new route
Woke up grumpy after yesterday's first Team Up and the resultant corrections to tight-leash walking, my knees are telling me all about it. I felt it in yoga class last night, too. So this morning I thought the better part of valor was to NOT do back-to-back first-time Team Ups, instead I brought Tok, who is a DREAM on a leash because she mostly follows the leader. Knowing this, I added my backpack and a new 3-mile route.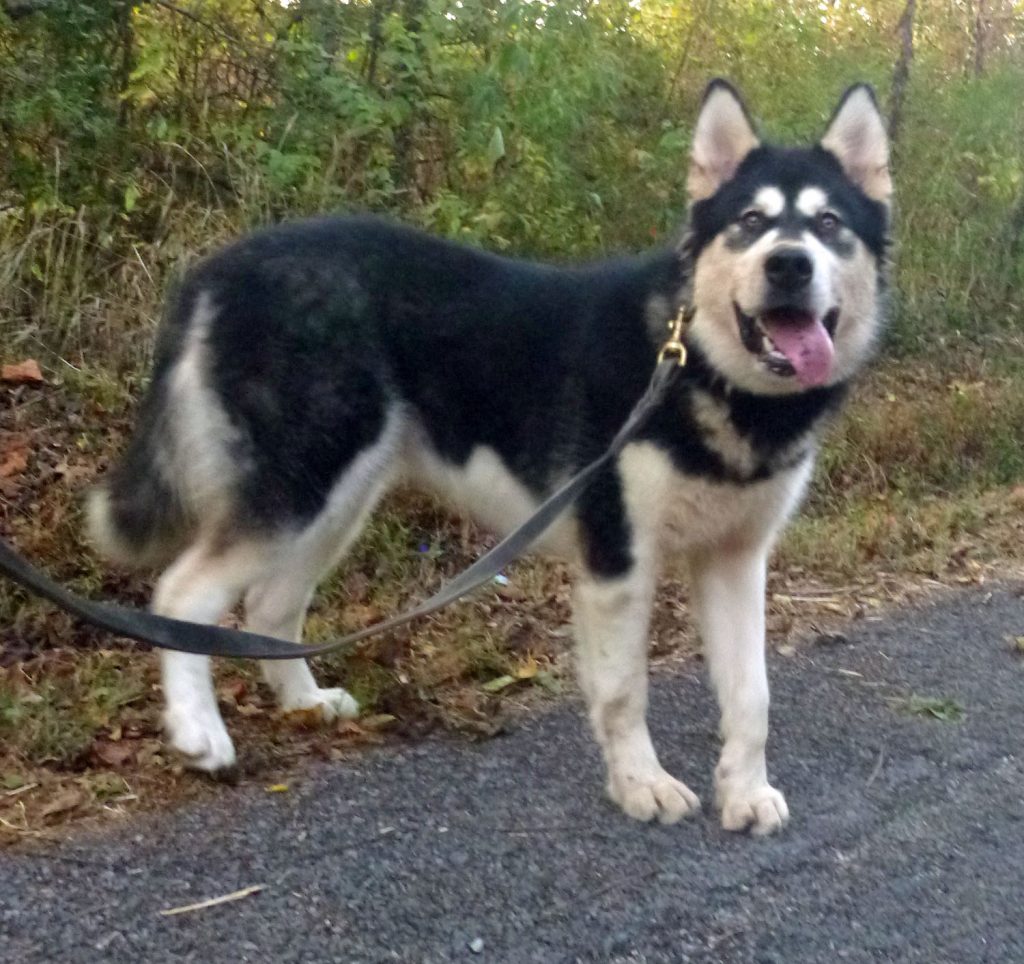 Tok
Tiny Tok is not. At 10-months-old, she is 25″ and 80#. At weaning, my 4-year-old niece Sloane named her Tiny from the Dinosaur Train. She was not Tiny then and isn't now. Ikkunnatok is Inuit for small flame or spark, and we called her Tiny Tok even then. My niece says she's Tiny in 2 languages which is a double negative meaning she's NOT tiny. Yes, the niece is 4-years-old.
Tiny Tok, who is not tiny, is too young for carrying 30% of her bodyweight, but she's not too young to walk… and learn loose-leash walking and be socialized to new places, people, and things.
Backpacks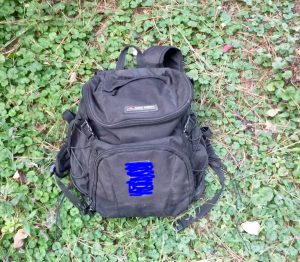 I have a terrific Osprey Exos 48L that I saved for and use for Ultralight backpacking. I upgraded to that from a very good Jansport I found at Walmart of all places which cost 1/3 of the Osprey but weighs more and has fewer features. But my training pack, the one I don't care if I tear up or gets destroyed by circumstances or Malamute, is a thrift-store High Sierra with a label from some long-ago promotion. It's a heavy denier nylon, ha daisy chains on each side, multiple zippered pockets, adjustable shoulder straps, and even a 1″ nylon-strap waist belt, even if it rides on my ribs. It's a very good backpack, more than a book bag but less than a hiking pack, but since I paid all of $2 for it, 1/100th what I paid for the Osprey, I think it's a TERRIFIC pack. Thrift stores have all kinds of helpful things for the budget conscious.
So today I started my "backpack conditioning" by carrying the High SIerra loaded with 2 whole water bottles and my phone. Mostly today was about getting used to having something on my back, to adjusting straps, and to getting used to crossing my hands behind my back when a dog circles around — not so easy with a pack on your back.
Like most things, you get used to it. But only with practice.
New Route – Roddy Store 3m
The new route is a total of 3 miles. We said good morning to more niegbors, saw a lot more of beautiful Roddy, TN, and Tok and I did this route in a slamming 1 hour. Even with pictures and water breaks. Tok drinks from a bottle, too funny.
Happy Trails
–SHS