Doggie Backpacks
34/63 degrees F, another CRISP morning.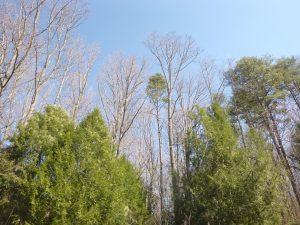 Walked Emmer & Yodel for a half mile to the firehall, and back. It was an intensive training session, both of them learning to walk loose leash AND learning to walk in tandem, but like with mama Mensa & baby Tok, they figured it out. We went slow, had a lot of stop-and-say-OOPS. They came back, loosening the leashes, I say YES, and we continued.
Got back and tried on a series of backpacks.
In LARGE, I have a Ruffware Palisades, a WolfPacks, a Wenaha, and an REI Adventure Dog . I've got an XL, a couple of MEDIUMs and an XS, as well. But wanted a heads-up comparison. I chose these brands for their features and capacity. Other brands, and knock-off brands from overseas have TINY saddlebags. Not for serious backpackers. And not for people who want to get the backpacking title for Malamutes. Those are cute, not functional. These four had the best combination of features and capacity.
Although I've got my eye on a couple more brands to try out.
---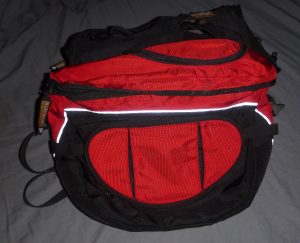 The Ruffware Palisades is $150 new. It comes with twin water bladders and a Web Master Pro PLUS harness that has multiple points of fitting, a handle on top, and good-sized saddlebags that are REMOVABLE. The removable feature is the main feature of this pack that stands out. It has a Y-shaped connection at the chest, a torso strap and a belly strap. It's the heaviest pack of the 4 at just over 2# and the priciest but still available at retail in a new version that is all red. And there is a handy video on their website that explains fitting. It holds a good amount. But doesn't have obvious attachment points for external gear carrying.
The Ruffware Approach is about $80 on amazon and does not have removable saddlebags. It may be a better comparison to the Wolfpacks.
---
The WolfPacks is $70-80 new. It comes with reflective trim and compression straps in the Banzai for $10 more than the other model. And there are rubber lash tabs on both models on the top for attachment points with compression straps, instead of d-rings which can get caught on things. This pack does not have a handle on top or a leash connector and I haven't missed either. It doesn't weigh a lot, but it's made of sturdy nylon and can hold a lot, plus the lash tabs mean you can thread a compression strap through and carry more things on top. The 2 straps, chest and torso, have fleece padding. Which makes me think about adding a fleece seatbelt sleeve for dog comfort.
---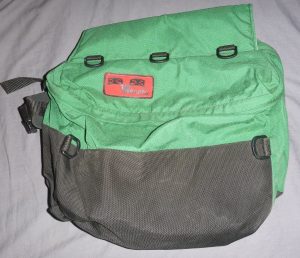 Wenaha are no longer made, but frequently available on ebay or other used equipment sites ($30-ish). There are several levels, the Wenaha Explorer I, II, and III and I don't know the difference. The ones I have each have 3 d-rings to a side for exterior equipment lashing but no handle on top or leash connector. And large zipper saddlebags. And three straps — chest, torso, and belly. They don't weigh a lot empty, but hold quiet a bit, plus the external D-ring lash points. And the buckle attachments have neoprene pads between the hardware and the dog's coat.
Not sure if the dogs are going to miss the y-shaped chest straps available on the other models or not. But again, a seatbelt fleece sleeve could provide easy extra padding. Might have to see if I can get them in bulk.
---
REI Adventure Dog Backpacks are also no longer made, so check Ebay ($30-ish.) These packs have lot of features, a sturdy handle on top with a leash connector (which I'm not sure is a good thing yet), lots of reflectors, and a chest-Y-connector with torso and belly strap similar to the Palisades. But is not removable. They just don't hold all that much compared to the other models. If you're dayhiking they could work well. I got them so my young dogs could wear a pack that wouldn't hold all that much compared to the other three brands. The large seems to hold what a medium does on other brands. But it does light up a lot under headlamps and has the comfort fitting of a Y-strap on the chest. And the large weighs nearly 2# empty. Since these are young dogs wearing them, I don't want a lot of weight and will add volume, like fleece blankets to fill out the saddlebags.
| | | | | |
| --- | --- | --- | --- | --- |
| | Palisades | Wolfpacks | Wenaha | REI |
| Removable saddlebags | Y | N | N | N |
| Y chest strap | Y | N | N | Y |
| Belly Strap | Y | N | Y | Y |
| Available New | Y | Y | N | N |
| External Gear Attachment | N | Y | Y | N |
| Handle | Y | N | N | Y |
| Reflectors | Y | Y | N | Y |
| | | | | |
| | | | | |