Cheers X Akai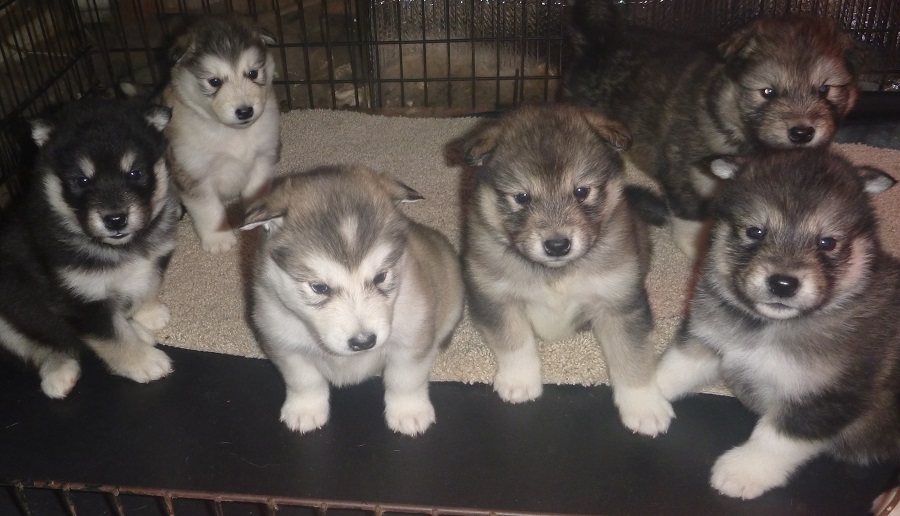 Akai: 10-gen COI 2.67%, OFA Good, Thyroid normal, CERF clear
Cheers: 10-gen COI 1.6%, OFA prelim Good, Thyroid normal, CERF clear
CREOLE Litter 10-gen COI 10%.
Not surprisingly this litter doubles on
Yogi
& CH
Singer
.
Cheers and old man Akai gave us COLORS in a sea of gray! Agouti, true Black & White (not the dark Alaskan Seal & Whites so many people erroneously call black & white) and grays, too. Thank-you, Cheerio!
Litter theme is CREOLE in honor of our MUDBUGS…
The Puppies
F1, Wayeh Mud on UR Tires "Bayou" (@ Wayeh)
F2, Wayeh Deja Voodoo "Deja" (@ Wayeh)
F3, Wayeh _____ "Maya" (TN)
F4, Wayeh _____ "Gypsy" (WA)
M1, Wayeh _____ "Shoku" (OR)
M2, Wayeh _____ "Little Mac" (TN)
Short Pedigree
Parents
Grandparents
Great Grandparents
AKC mjr ptd, UWP Wayeh Rtic Seas "Akai"
10-gen COI 2.67%, OFA Good, Thyroid normal, CERF clear
Artic-Luv's Dancin' Bearfoot "Yogi"
Uyak Koyuk "Kip"
Artic-Luv's Whose Your Daddy "Betty"
UWP Wayeh Sings to the Rtic Moon CGC RN RA "Seranade"
INT CH AKC ptd UWP Hudson's Notorious Nikko "Nikko"
CH Wayeh's Soul Song CGC RN WTD WLD "Singer"
Wayeh-Pacific Here's Mud in UR Ice "Cheers"
10-gen COI 1.6%, OFA prelim Good, Thyroid normal, CERF clear
Masasyu's Muddy Waters "Clay"
Jireh's Kotzbue Kamishak "Mishak"
INT CH Black Ice's Heartbreak Hannah "Hannah"
Wayeh-Pacific Evening Star"Theia"
Artic-Luv's Dancin' Bearfoot "Yogi"
AKC ptd Wayeh Star Light Star Bright "Bright"
Quick Pics
Deja
4 weeks old
F1
F2
F3
F4
M1
M2
3 weeks old


1 week old


Birth