Mensa takes a hike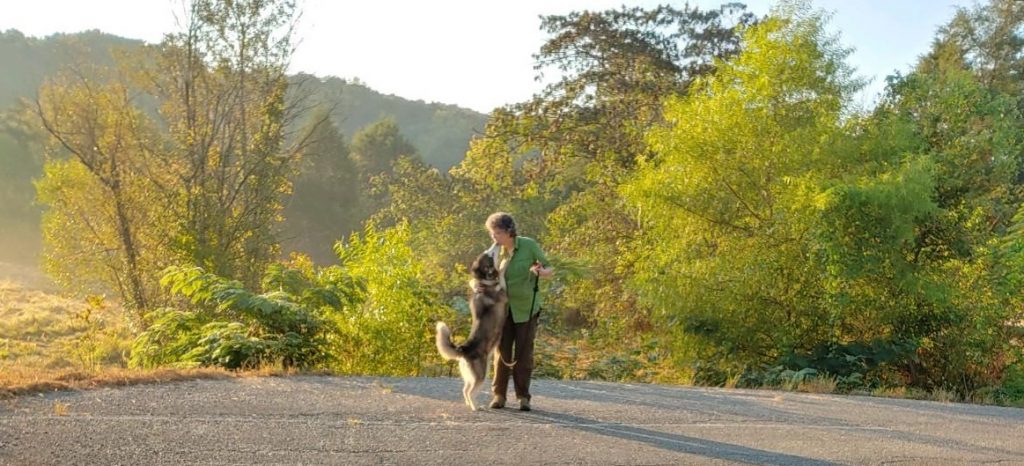 Morning Trip Report 10/3/2019 — 6y Mensa takes a hike.
We met Nancy, Caboose, & Bailey at 8am instead of 8:30am, trying to find cooler weather, but with clear daylight as a safety measure. Daughter Tiny Tok was UN-HA-PPY about being left behind, but we were training loose leash-walking and that doesn't happen when Ms. Happy-Go-Quickly is on the leash. Tiny Tok is not tiny and she does everything at warp speed. Mensa is old enough, and calm enough, that after the initial burst of excitement and full-body hugs, she will calm down and actively walk loose leash.
By actively walk, I mean she is mindful of the leash. No plunging and twisting and cavorting.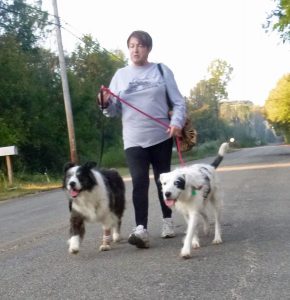 Mensa is named because she's smart, smarter than the average bear, that's for sure. When I was trying to place her as a puppy, she would walk away from potential buyers. As soon as they chose another puppy, she would read their body language and run up for attention.
She was watching people as a 3-week-old when her littermates were figuring out how to mouth-wrestle without falling down. She is always thinking. On the walk today, she sniffed & wagged greetings with the other dogs, but wanted to greet Nancy. But her dogs were in between. So she waited until the dogs were preoccupied with something else before going up for a grin and a wag to get her pats. Smarts, this girl has 'em.