3mph
33/58 degrees F, it was CRISP when we left this morning. Timed our "walk" today. Fed the dogs at 0800. Left at 0938, came back at 1040. We traveled a shade over 3 miles. With a short water break halfway. I'm calling it a walking pace of 3mph over the flat.
We changed up the route and I had plenty of time to think amid the loose-leash training with Mensa & Tok. I put them in chain collars for their leash-collar and left them in their semi-slip sledding collars embroidered with my phone number for their id-collar — I am a huge fan of the 2-collar system. Because if the leash-collar breaks, they still have ID on them. Instead of me chasing them with a broken-ID collar in my hand yelling, Come back, come back!
Tok picked up the training in the first couple of "eh!" corrections (think hoarse seagull, that's the sound I make when the leashes go tight and I stop in my tracks). Mensa wants to lead out and Tok wants to follow at her shoulder or behind, and I don't mind either so long as I don't get jerked around. This is not obedience training, this is loose-leash walking. By the Fire Fall they were walking with a nice minor-tension in the lead, just enough to let them know I was back there. I can live with that for hiking.
Couple of things to do differently next time.
Put Yuki up when walking Mensa. Forget that. Again. They just do not like each other and the time to work on that is not when I've got Mensa & Tok on leashes outside a fence.
Bring camera, I keep forgetting that.
Upon reflection, I'm going to add Emmer & daughter Yodel to the hiking training group. I like the mother-daughter aspect of hiking with Mensa & Tok.
Bayou and Yuki are not related (closely) but they do live and play together. I may add them as well. After individual loose-leash training. I want to continue that close relationship as long as possible between two adult females.
And bring water bowl and water — in their packs when they arrive. Have 2 wenahas and 1 palisades on the way.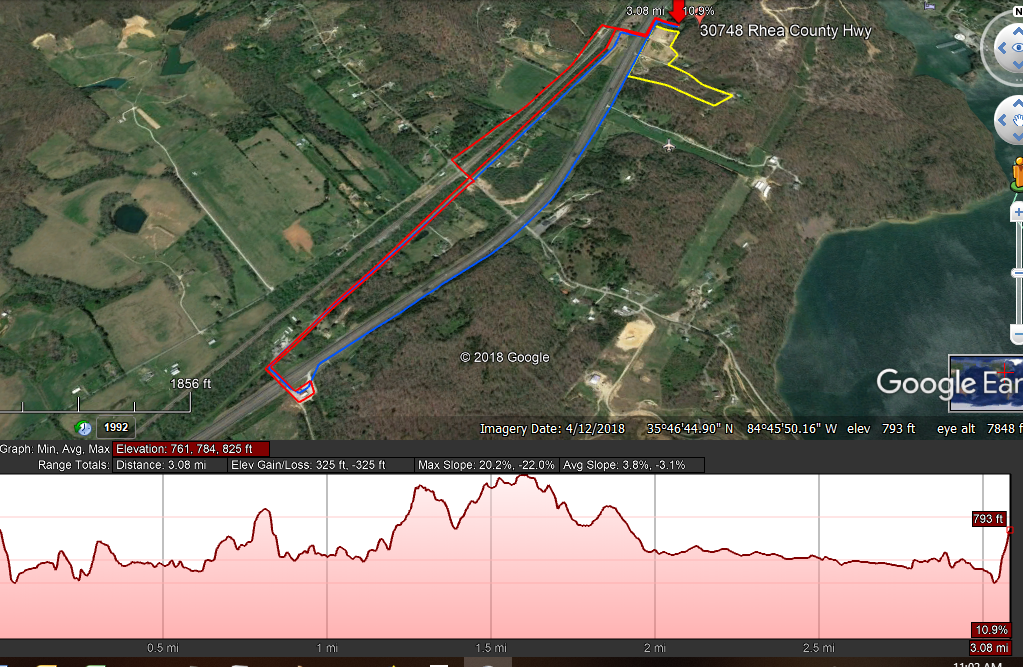 So far we have encountered 2 chained dogs on this route. This morning there was only 1 chained dog. That makes for a good route. Waved at everybody we saw, which was not many, and all of them in vehicles.