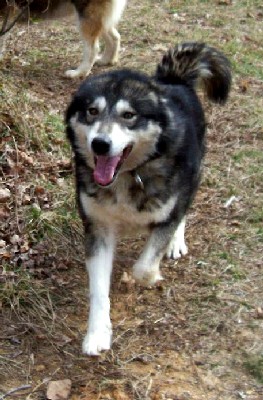 This was a big year for Wayeh. We welcomed 2yo Clay (3/4 Kotzebue) & Brady (Imp. Czech Republic) and had a big time at the shows this year.
July 2007 Thank-you, Lori Hicks/Masasyu Malamutes for letting us bring home Masasyu's Muddy Waters "Clay." I got him home and the very next morning, bright and early, I hooked him up in harness to the dog scooter and said, Let's see what you can do, bubba. Well, we went 9 miles to Spring City and the drive-thru at Mickey D's. We rested with water and bacon biscuits. Then came all the way home. I called Lori and screamed, "You didn't tell me you had harness trained him!" She said, "He's never seen a harness before." Holy cow! He did all that just for FUN?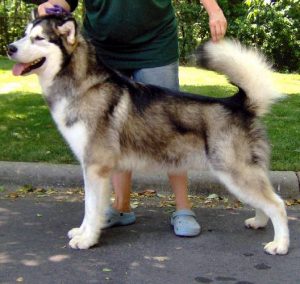 June 2007 Thanks to Melissa/Ksarah Malamutes for letting Brady come live with us. Thank-you so very much! He's lovely.
March Franklin AKC shows were huge for us this year. Singer got her first two Rally-Novice B legs. While her kids kicked up their heels in the conformation ring.
Maestro went RWD to majors twice.
But Sunny, there's the big news. She went Reserve 3 times, then pulled down a 4-point major and BOB to go to group. WAY TO GO, SUNNY!
We went back to Franklin in late March. Saturday Maestro was WD for 1 point and BOB. Yogi was Reserve. Sunny was WB, BW, and BOB for 1 point. And Singer FINISHED her Rally-Obedience Novice B title. Sunday Maestro was WD, BW, and BOB for 1 point. Yogi was RWD again. And Sunny was WB. What a great month.