Don't let anyone tell you it isn't possible.
I believe in obedience training EVERY dog, in fact, I took a 9-year-old Alaskan Malamute Back-Yard-Breeder's Bitch through Puppy Class, Beginner's Pet Obedience, and almost to her CGC. Doesn't sound like much, does it? But she went from living on a 30′ tieout producing puppies to a housedog who could walk on a leash, wait at doors, sit for a treat, not growl at every other bitch, and interact with my own pack. This from a dog who knew how to discipline pups or flirt with bigger males. It IS possible. Miss Bear had cancer and she never got her shot at the CGC. And she never really did learn the difference between carpet and grass. But in everything else she was a ROCK STAR!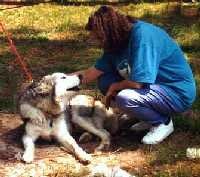 Obedience is a necessary part of a good pet or companion, and anyone can train their dog — train, don't complain!