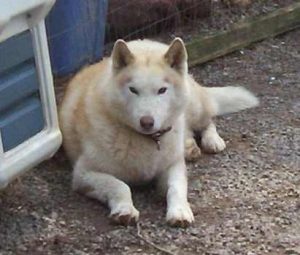 Solocha's Jonathan Higgins CGC WTD
(BIS BISS CH Solocha's Magnum PI CGC "Magnum"" X
CH Myla's Catch Me if U Can "Candy")
b. 1/28/1997, 22″/55#, red/white male SIBERIAN HUSKY
Jon came to Wayeh at 17 months. He didn't like the show ring, expressed his displeasure by yanking my skirt to my ankles at Clarksville, TN, one year, and was Abracadabra, NOT a show dog anymore. What he was born for was harness. And he was co-leader on my 6 or 10-dog Siberian team after Tosha retired. He's retired as well now for health reasons, but he still runs the fence lines every time a team heads out, and still stands at the last corner and watches us out of sight.