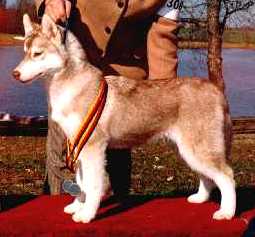 INT Jr CH Juroblyn's Rhythm N Woos CGC WTD IWPA-WD
b. 6/18/1999-2012, 20″, 42lb, red/white, amber-eyed, female
Named for Bessie Smith, legendary R&B singer
Current Team Position: Swing since 2000, Leader in training 2002
Obedience, sled & show dog, Bess is our Group 2 winner — twice. She weightpulls in the 18% range, her personal best 810lbs, and is running lead on the Siberian sled team, and single lead on the puppy team in front of her son Sam, daughter Ruth She can do anything: she also has a wonderful, laid-back temperament and she's our peacemaker. She is a serious worker in harness and a clown in obedience.