It all started with Billie, then she passed Wayeh to Liz and Sidney.
Billie Stewart (1933-1999) was a Malamute breeder for two decades, a long-time rescuer in Kentucky, and an AKC judge. She was a surrogate mother to Liz and Sidney, her daughters by virtue of dog blood, and she adored her Malamutes with a whole-hearted and generous spirit. Wayeh, under Billie's care, had a long tradition of success in obedience and conformation.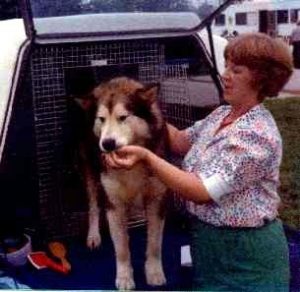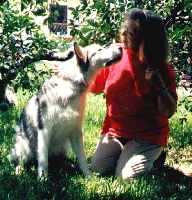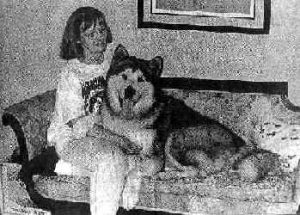 When Liz Norris and Sidney Helen Sachs inherited the kennel from Billie, her specific instructions were that we would take care of the old dogs and continue the tradition of breeding for a working housedog — a Malamute who can do the job he was intended to do (in harness & on leash) and come home and pile on the couch with the family.
Liz Norris first met Billie at a dog show, while Liz was competing in obedience with yet another of her CDX Malamutes. They became instant friends at an exciting time in Wayeh history, the 5-Champion litter was being campaigned. And Liz fell hard for one of them, a dog named Yuke. She has owned Malamutes for 20 years and has titled them in obedience, search& rescue, tracking, backpacking, temperament, & conformation. She teaches obedience, gives behavior modification seminars, and rescues dogs in Frankfort, KY as Pawsability Unleashed.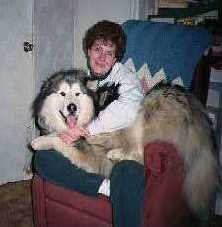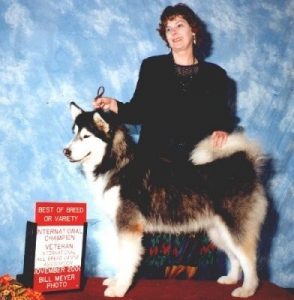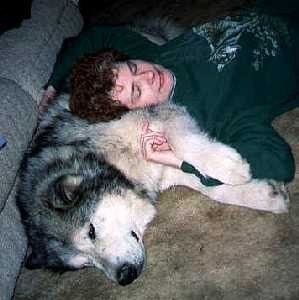 Sidney Helen Sachs got started in sled dogs with a used racing rig and a motley team of un-registered, second-hand, somewhat-obedience-trained Siberian Huskies & Alaskan Malamutes. Through rescue, she met Billie and a dog that changed everything, CH Wayeh's Cherokee Brave CGC TDI TT. After that, came a Cherokee granddaughter, Summer who would become AKC/INT CH Wayeh's Cherokee Summer CGC WTD and the dream began: a working housedog and all-around champion with titles on both ends of the name.
Twenty years have gone by since we lost Billie and Sidney continues her all-around Malamute tradition by outcrossing to select pedigrees. All modern Wayeh dogs have basic obedience, hiking, & dogsledding skills. They are temperament tested. Some of our dogs also do competitive obedience, conformation, & weight-pulling, as well as back-packing & therapy. Our breeding dogs must meet these high working standards as well as pass standard tests/ratings for hips, eyes, & hypothyroidism.
Temperament, health, structure, working ability and then type — a good Malamute must be a good dog first.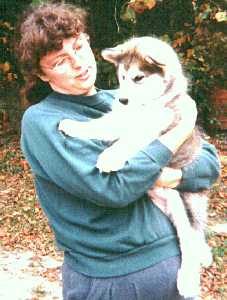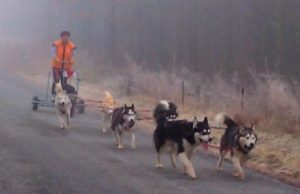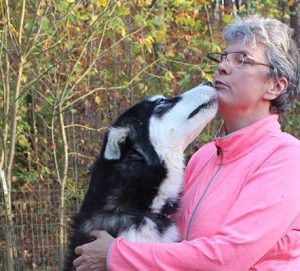 Billie's death rocked us. But she had entrusted us with a great honor, care of Wayeh, her past, her present, and her future.
We are firm believers in the value of all dogs, regardless of titles, but having worked in rescue for 25 years, first as Sleddog Rescue and then as Tennessee Alaskan Malamute Rescue (TNAMR), we will not be responsible for casually producing or carelessly placing puppies or adult dogs. Our goal is to produce working housedogs. And if the lifelong placement does not work out for any reason, we pledge to take the dog back and continue our support for the life of the dog.
_____________________________________________________________________________
1999
To the Mal Word:
Billie Stewart died on the way home from a dog show in a car accident. She didn't win that week in Lexington, KY, but she had a grand time teaching Shadow to pull with his new weightpull harness. They went all over the grounds with a rolled up towel dragging behind them. She took pleasure in the simple things, because to her, a happy moment with her dogs was an important thing.
Upon her death, Billie's surrogate daughters Liz Norris and Sidney Helen Sachs divided the dogs. Billie had sat us down just last Christmas to discuss two important things. We did not understand the significance at the time, but we are both determined to honor Billie's last wishes that we:
1) Take care of the old ones &
2) Continue Wayeh
The old ones are much loved and safe here in Tennessee and up in Kentucky with Liz. And we hope to continue the Wayeh tradition with a planned breeding in late 1999 (Update: see the Rider X Summer Puppies)
Barely a month after her passing, Liz and I still don't quite believe it happened. I'm surrounded by her dogs and her things and I still start email messages to her to explain some silly, simple thing that her dogs have done that she would take pleasure in. Tears fall less painfully now, and she would have wanted it that way. Billie enjoyed life, she embraced it, and I know in my heart that she was greeted at the Rainbow Bridge by choruses of Malamute howls and kisses. She is happiest with her dogs, and she would want that to be a comfort to those of us left behind.
Sidney Helen Sachs
5/2/99