Billie Stewart (1933-1999) was a Malamute breeder for two decades, a long-time rescuer, and an AKC judge.  She was a surrogate mother to Liz and Sidney, her daughters by virtue of dog blood, and she adored her dogs with a whole-hearted and generous spirit.  Wayeh, under Billie's care, had a long tradition of success in obedience and conformation.  Wayeh Needa Mist, TT, ROM, OB-ROM "Wayeh" started it all with 6 CH kids, 4 obedience-titled kids, and the first BIS Malamute male in Western Australia — this in only 2 litters.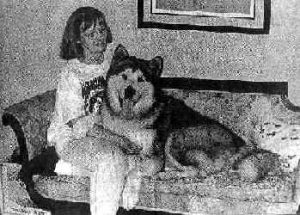 Liz Norris and Sidney Helen Sachs inherited the kennel from Billie.  Her specific wishes were that we would take care of the old ones and continue the tradition of breeding for a working housedog — a Malamute who can do the job he was intended to do (in harness & on leash) and come home and pile on the couch with the family.
Liz Norris had met Billie at a dog show, while Liz was competing in obedience with yet another of her CDX Malamutes.  They became instant friends at an exciting time in Wayeh history, the 5-Champion litter was being campaigned. Liz fell hard for a dog named Yuke.  She has owned Malamutes for 20 years and has titled them in obedience, search& rescue, tracking, backpacking, temperament, & conformation.  She teaches obedience, gives behavior modification seminars, and offers private consultations in Frankfort, KY.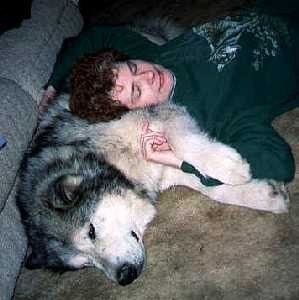 Sidney Helen Sachs got started in sled dogs with a used racing rig and a motley team of un-registered, second-hand, somewhat-obedience-trained Siberian Huskies & Alaskan Malamutes.  Through rescue, she met Billie and a dog that changed everything, CH Wayeh's Cherokee Brave CGC TDI TT. After that, came a Cherokee granddaughter, Summer who would become AKC/INT CH Wayeh's Cherokee Summer CGC WTD and the dream began: a working housedog and all-around champion — both AKC titled (conformation & obedience) and all 4 working dog titles (Team Dog, Lead Dog, Weight-pull Dog, & Pack Dog).
Sidney continues this tradition by outcrossing to select pedigrees (link).  All modern Wayeh dogs have basic obedience, hiking, & dogsledding skills.  They are temperament tested.  Some of our dogs also do competitive obedience, conformation, & weight-pulling, as well as back-packing & therapy.  Our breeding dogs must meet these high working standards as well as pass standard tests/ratings for hips, eyes, hypothyroidism, & dwarfism.  Temperament, health, structure, working ability and then type — a good Malamute must be a good dog first.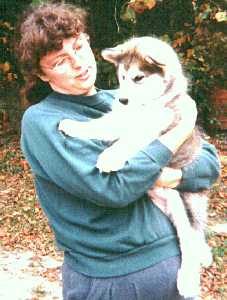 Billie's death rocked us.  But she had entrusted us with a great honor, care of Wayeh, her past, her present, and her future.
We are firm believers in the value of all dogs, regardless of titles., but having worked in rescue for many years, we will not be responsible for casually producing or carelessly placing puppies or adult dogs.  Our goal is to produce working housedogs.  And if the lifelong placement does not work out for any reason, we pledge to take the dog back and continue our support for the life of the dog.