This is the written record of the INUIT litter, together with the INUIT home page and the picture Galleries, but this is the record of what happened after birth.
Part1: Puppy Diaries
Part2: Temperament Tests/Puppy Evals
Part3: Summaries
Part4: Medical Summary (for your vet)
Puppy Diaries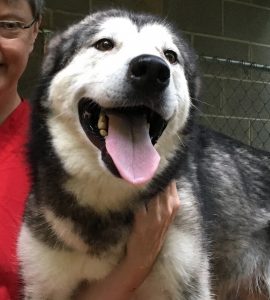 6/17/17 — 8wo: Socialization & Evals.  I'm so tired I can't see straight.  Pups conked OUT.  We had a big day today.  Started early and kept going.  Mike & Angela R. came early with Chinook (TD X Mensa) and meet the pups.  Then Nannette & Coleen C. & Pam W. with Dancer & Lace came to do puppy evals.  Three HOURS later, we had our picks narrowed down, if not finalized.  And after a quick lunch, Nannette & Coleen headed back to Nashville, while Pam & I met Mike, Denise, and Matt from Indiana, who picked the fireball of the litter Blaze.  They'll be back to get her.  Pics & evals up today.  Soon as I wade through.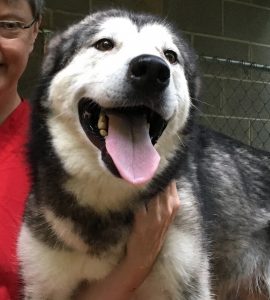 6/15/17 — 7.5wo: First Vet Visit (exam, fecal, vacc no lepto, weights, Avid microchips).  Got up early, wrangled all 12 pups into the van, managed to get gone in the gray twilight, foggy, cool morning.  Hit the vet as they opened.  Doc Marshall & tech Elizabeth got weights, fecals, vaccines, and microchips — bang, bang, done!  Got dewormer.  Got Advantix II, got some Dermax for great-grandpa Maestro (13y9m) who is having a rough week.  And headed home. Made it back before the mist burned off.  Which is good since the AC in the van needs "refilling."  Just in time for the weather advisories to start screaming and the skies to open up and POUR rain.   Did manage a few pics for the galleries.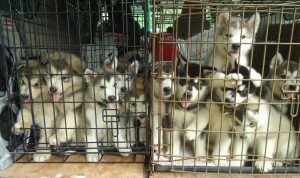 Going to the vet 7.5 weeks!
Van rides are very educational.  Everyone hollered the first trip @ 4 weeks.  Most of them were quiet after the first ten miles @ 5 weeks.  All of them slept after the first 10 miles @ 6 weeks.  But going to the vet, they were asleep before we hit the end of the driveway and didn't make a peep, to or from.  @ 7 weeks for the first time, I let them bail out on their own and took pictures.  Very revealing about temperament.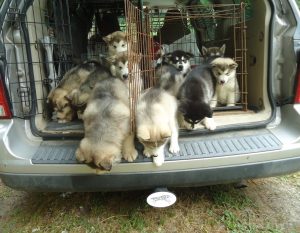 First noses out the door were (Kiowa's fluffy girl F2 &) INUIT's F1, F6 & M1.
(Kiowa's F1 &) INUIT's M4, M2, & F3.
INUIT's M3, F4, & F5.
& last… INUIT's F2.
Which exactly matches their temperaments thus far.  F1, F6 & M1 are the overtly friendly and brave puppies.  M4, M2, & M3 are middle of the road.  M3, F4 & F5 are very laid back.  F2 is a follower, content to be wherever she is, but not willing to be left behind either.  This is one test.  But the results were not surprising.
(Kiowa's long-coat F2 should be called DIVA, she was putting on her Mariah Carey at the vet's office — pick me, pick me, pick me — why didn't you pick me??????)
F1 – 8#2oz (Blaze)
F2 – 7#5oz
F3 – 10# 14oz
F4 – 9# 14oz
F5 – 10#5oz (masked Seal)
F6 – 10# 2oz (Split bar Seal)
M1 – 11#4oz
M2 – 11# 1oz
M3 – 11#5oz
M4 – 9#10oz (Juneau)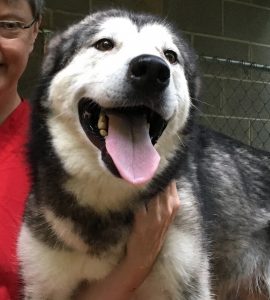 6/12-14/17 — 7wo: (Mon-Tues-Wed) Dewormed with Panacur (Fenbendazole 22%).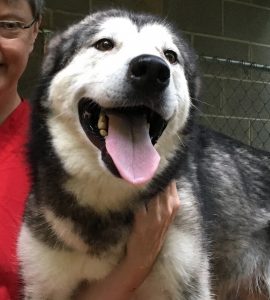 6/14/17 — (Tues) BATHS.  So this didn't go as planned.
Six puppy baths, put them all back outside since it's so hot even in the shaded kennels it's quicker than a cage dryer. Toweled them off good. Gave them enough time to air dry (and my back to stop protesting) and then gathered my slicker and Show Sheen and camera so I can get them all gussied up for pictures… walked outside….
And it's POURING rain. …has been for 20 minutes now. Puppies are saturated right down to skin again.
Rain is good for the garden, it's good f…or the water bill, it's good for the ambient air temp… (I'm working on being positive!)
LOL…
(The rain tapered off to a nice slow drench after 30 minutes, and kept it up most of 4 hours.  Three hours into the rain, I took my undercoat rake & my Show Sheen out into the kennels, put all of them up on the doghouse, one by one, sprayed them down and raked their coats, tail to nose until they were poofy.  Even Jarhead (who has a short coat so we joked it was a buzz cut, which evolved into him being a Marine… then…)  When they dry, they will be purty.
Vet tomorrow for shots, etc.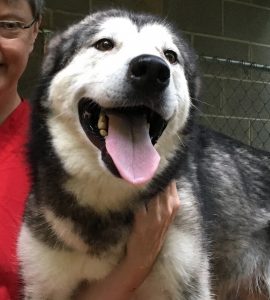 6/4/17 — 6wo: Melissa & Erin R. came down for more pics and socialization for HOURS and we dodged rain showers all day long.  100s of pictures, Erin has a real eye for taking pictures, and we filled her phone and my camera.  Those are posted in the Galleries as well.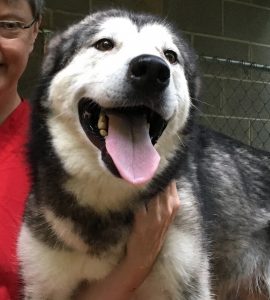 5/31/17 — 5wo: Karen P. who I met at a Knoxville dog show in 2009 when Sunny finished her championship, came down to help socialize puppies and take 5-week-old pictures.  We played… um, it looks like play, but it's actually socialization… we socialized puppies for hours and put scads of pics under Galleries.  Thanks, Karen P., you were a huge help.  Dewormed with PRAFERAN ANTHEIMINTH.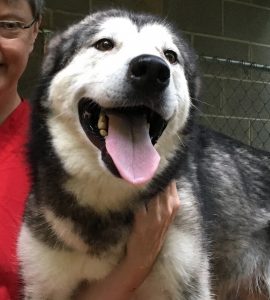 5/22/17 — 4wo: deworm liquid PYRANTEL PAMOATE & Galleries.  I have to bring Mama Mensa inside for each meal, 8 a.m., 2 p.m., & 8 a.m.  Non-nursing adults are fed on the 8s, puppies get an extra meal in the afternoon.
At the morning meals, I bribe Mensa into her basement crate with a whole raw egg, she chases them like a ball.  Then the pups get an hour to eat, wear, smear, and wade in their food, wander off and come back to it, and wander again while I feed everyone else, then scoop kennels, then compost it (poop & cedar shavings).
At the afternoon meals, I give them half an hour or so to eat, then let the pups out of their kennel and we play FOLLOW THE LEADER around the yards into the veggie gardens (raised beds), me calling PUPPY-PUPPY-PUPPY and petting every puppy that follows me at least a dozen feet or so.  Then we go back to the puppy kennel and they follow me inside.  I sit down, they pile on my lap, all 10 at once, and give kisses, wags, and hugs and chew on hems and shoes.  Then I let Mensa out and she finishes their meal and cleans them up.
At the evening meals, I put Mensa up, feed the pups, feed the adults, check water buckets, let Mensa out after an hour, and we all go to sleep until 5 a.m. the next morning.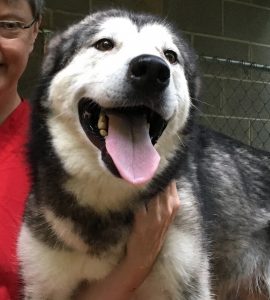 5/15/17 — 3wo: Pups moved outside and started kibble slurry.  Pics posted in Galleries.  Powdered with coffee-bean grinder Diamond Naturals All-Life Stages Chicken & Rice kibble, added hot water & Goats Milk, and mostly they wore it, smeared it, and toddled around and explored cedar shavings and their new space.  Put Mama Mensa back in and she cleaned up the kibble and cleaned up puppies.  Also dewormed with PRAFERAN ANTHEIMINTH (Pyrantel Pamoate, Febantel, Praziquantel) indications say safe for puppies at least 3w and 2#, and for moms 2w after whelping. & Galleries. 9 of 10 pups in this pic. The other one is under the dog house.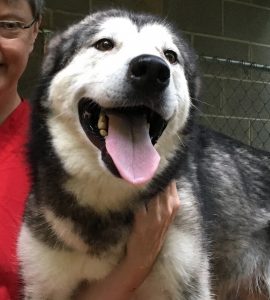 5/8/17 — 2wo: Updated FB with new pup pics and dewormed with liquid PYRANTEL PAMOATE (Nemex II) & Galleries.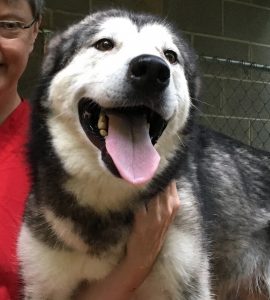 5/3/17: Updated FB cover photo again with maternal grandpa Pax.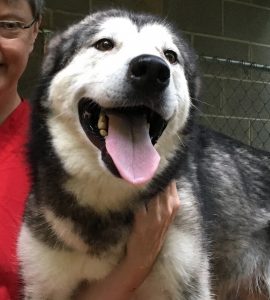 4/30/17 — 1wo: Galleries updated, and Facebook's cover pic changed to grandpa Yogi.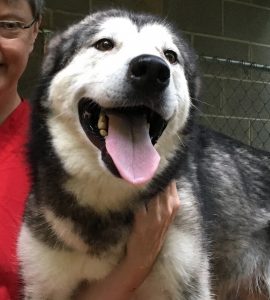 4/29/17 — Of the grandparents… Yogi is a SABLE, Sera is a GRAY, Pax is a SEAL, Kiowa is a WOLF GRAY — oops, we can't call it that anymore. Too bad since there is a DISTINCT difference between Sera's gray and Kiowa's gray. But what do I know from grays? <G>
AKC doesn't allow the term when registering, but Gray and WOLF Gray are two different coats. And AKC says all reds must be registered as reds, even if they are 'light red,' 'medium red,' 'dark red,' 'red agouti' or 'cream'– still only get one choice.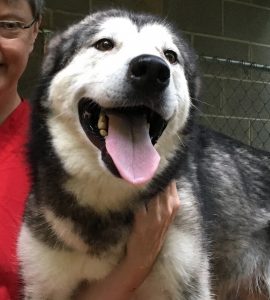 4/28/17 — Akai X Mensa, born 4/24/17, Ten — count 'em — TEN little monkeys, grays or wolf grays or sables, seals, masks, open-faces and blazes. As many of you know, this has been a very hard few years for WAYEH and for me personally. But Papa Akai, in celebration of his tenth birthday coming up, helped Mama Mensa give us TEN puppies to aw and coo over.
4 days old, more in Galleries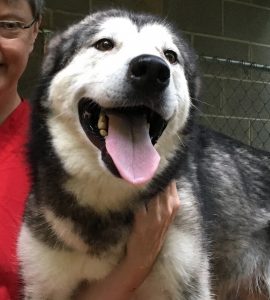 4/24/17 – Happy Birthday to woooooo, babies!  First off, I did not expect 10 puppies.  Mensa's first litter was 5, and she wasn't that much bigger with this litter.  Plus, daddy Akai is 10-years-old this year, didn't know the old man had it in him.  For the last week, Mensa has been restless all day, all night — now I know why!  She hollered every hour, on the hour, because her bladder was squished flat.  I'm up at 5 a.m. most mornings anyway, but that means I go to sleep earlier than Miss Mama Mensa would like to.  Or try to.  The last 4 nights, sleep was infrequent for both of us.  So during the day, if I walked by her crate and she was snoring — snoring, can you believe the nerve? — I would accidentally bump it to wake her up.
I amused myself with bad puns on the WayehMals Facebook Group — what three-letter word starts with G-A-S?
Car, of course.
What 10-letter word starts with G-A-S?
Automobile.
Seemed funny that last night.  From midnight to 6 a.m, she worked hard and I kept nodding off.  But… ten puppies! I knew there were 10, I knew there were grays and seals, boys and girls.  But first count was 5 & 5, so I didn't announce at first.  I grabbed some sleep and counted again a few days later, spending the days in between, switching out towels under mama Mensa and pups in the kitchen crate.
Mensa got 3-days of Panacur dewormer when she was bred, and another 3 days when she whelped, 4/24-26/17.