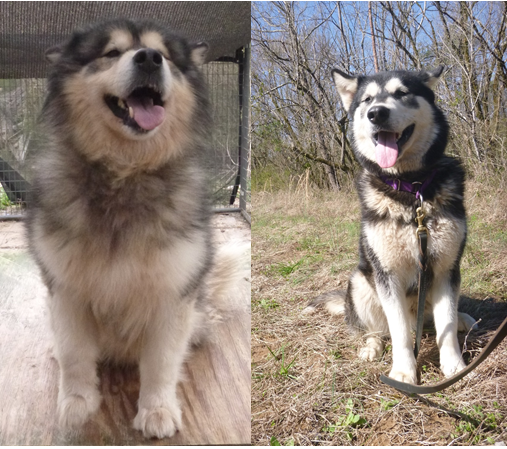 Wayeh First to Nome "TD"
Mystic-Wayeh Counting Stars "Yuki"
10-gen COI 19%. This is a deliberate breeding between TD and outcrossed Yuki, and the pedigree doubles on the incomparable Wayeh Bearing Sea "Grace" (Akai X Honey Bear.)
Tied 8/3-5-7/2019, due 10/9, expected go-home 9 weeks later on 12/11/19.
TD: 10-gen COI 12%, OFA Good, Thyroid normal, CERF clear, 94#, 25″, gray sable.
Yuki: 10-gen COI 3.9% outcross, OFA (Prelim) Good @ 1y, Thyroid normal, CERF clear, 85#, 25″, seal.
PLEASE READ THIS FIRST
if you are interested in purchasing
a Wayeh Alaskan Malamute Puppy.
This litter is between two of the sweetest, most easy-going, laid-back, super sweet dogs I've ever owned. That gorgeous temperament goes right back to the best temperaments I have ever seen in Malamutes: Grace, her sire Akai, his dam Seranade, and her sire Nikko and grandsire Rider, one of the best temperaments ever, and back to Wayeh's Cherokee who lived with his grandson Wayeh's Shadow. This pedigree is all about the mellow, sweetheart temperament.
The Puppies
First pick female RESERVED for Wayeh
Second pick pet female AVAILABLE
Third pick pet female AVAILABLE
&
First pick male RESERVED for Wayeh
Second pick pet male AVAILABLE
Third pick pet female AVAILABLE
Litter Theme – SUGAR
AKC registered names will follow the litter theme:
Wayeh + Sugar + __________
Call names can be anything you want and can either go along with the registered name theme like – Sweets, Sugar, Candy, Honey, Caramel, Bonbon, Cookie, Puddin, Cupcake, etc. — or can be a more traditional sled dog name. But be aware, if you think it's a great traditional name, likely so do others. We're already at something like Nikko/Nikki #15, Tundra #11, Luna #9, Kodi/Koda/Kodiak #15, Cheyenne #5, Apollo #3, Zues #4, Kyra #8, etc. Be orignial!
When giving a dog an AKC name, simple is better.
Other options
Wayeh Sugar in the Morning
Wayeh Sugar at Suppertime
Wayeh Sugar Pie Honey Bunch
Wayeh Shake the Sugar Tree
Wayeh Spoonful of Sugar
Wayeh Sugar Mama
Wayeh Sugar Daddy
Wayeh Sugar Baby
Wayeh Sugar Sweet
Wayeh Sugar and Spice
Wayeh Sugar Plum
Wayeh Sugar Shack
Wayeh Sugar Hill Groove
Wayeh Sugar Ray
Wayeh Sugar Blues
Wayeh Sugarlands
Wayeh Sugar Cookie
Wayeh Spun Sugar
Wayeh Sugar __________ (must comply with AKC naming standards)
Pedigree
Galleries
Papa TD.
Mama Yuki.
Generations
This litter is Wayeh's 12th Generation.
Wayeh Needa Mist ROM OB-ROM "Wayeh"
Wayeh's Nvwati Svnoyi ROM "Midnight"
CH Wayeh's Sassafras Lass "Razzy"
Wayeh's Shoshone Sunwalker IWPA-WWPDX " Shoney"
CH Wayeh's Arctic Wind's Shadow CGC TT TDI "Shadow"
CH Wayeh's Cherokee Summer CGC WTD "Summer"
CH Wayeh's Soul Song CGC RN WTD WLD "Singer"
UWP Wayeh Sings to the Rtic Moon CGC RN RA "Seranade"
UWP AKC Mjr Ptd Wayeh Rtic Seas "Akai"
Wayeh Bearing Seas "Grace"
Wayeh First to Nome "TD"
SUGAR Litter