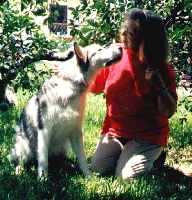 Billie Stewart
(1933-1999)
Billie Stewart officially began Wayeh Alaskan Malamutes in 1981 with the litter that produced Wayeh Needa Mist TT ROM OB-ROM "Wayeh" & Lazarus Wayeh "Laz."
Liz Norris &  Sidney Helen Sachs each met Billie through rescue, and then obedience/conformation showing.  We all became fast friends.  She mentored and mothered both of us, encouraged us, stood by us and believed in us.
Sidney got her first show Malamute from Billie after falling in love with a sweet old Mal named Cherokee, the pup's grandfather.  Imagine a breeder giving pick bitch (and maybe the best thing she ever produced) to a rank novice?  But Billie believed .  And so she started mentoring Sidney on show dogs, on future breedings, on all the things to do with the responsibility of owning an intact dog in today's crowded world.
To the Mal Word:
Billie Stewart died on the way home from a dog show in a car accident.  She didn't win that week in Lexington, KY, but she had a grand time teaching Shadow to pull with his new weightpull harness.  They went all over the grounds with a rolled up towel dragging behind them.  She took pleasure in the simple things, because to her, a happy moment with her dogs was an important thing.
Upon her death, Billie's surrogate daughters Liz Norris and Sidney Helen Sachs divided the dogs.  Billie had sat us down just last Christmas to discuss two important things.  We did not understand the significance at the time, but we are both determined to honor Billie's last wishes that we:
1) Take care of the old ones &
2) Continue Wayeh
The old ones are much loved and safe here in Tennessee and up in Kentucky with Liz. And we hope to continue the Wayeh tradition with a planned breeding in late 1999 (Update: see the Rider X Summer Puppies)
Barely a month after her passing, Liz and I still don't quite believe it happened.  I'm surrounded by her dogs and her things and I still start email messages to her to explain some silly, simple thing that her dogs have done that she would take pleasure in.  Tears fall less painfully now, and she would have wanted it that way.  Billie enjoyed life, she embraced it, and I know in my heart that she was greeted at the Rainbow Bridge by choruses of Malamute howls and kisses.  She is happiest with her dogs, and she would want that to be a comfort to those of us left behind.
Sidney Helen Sachs
5/2/99